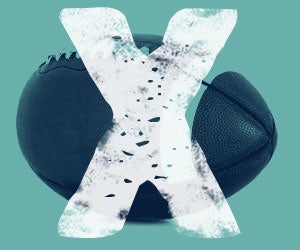 Sure, we don't know our football all that well. But that's actually part of the reason we feel pretty justified calling bullshit on Tom Curran's list of "Five Players Ready to Become NFL Superstars."
There are stars and then there are STARS.
And then there are —==SSSTTTAAARRRSSS==—(TM)!!! And then there is also that channel Starz.
And trying to put a player into one category or the other is a subjective thing.
True. Hard to be objective about a distinction that you just made up.
For instance, Carson Palmer … star. Tony Romo … STAR. Agree?

I guess.
Wait, no. I changed my mind. I'm gonna go with:
I GUESS.
If you asked a dozen GMs, more than half would lean toward starting their team with Palmer. But if Tony Romo and Carson Palmer walked side-by-side through, say, O'Hare International Airport, who would be more widely recognized?
Romo. No question. Playing for the Cowboys, dating Jessica Simpson, smirking and grinning and trying to keep T.O. from melting down - all of it has helped make Romo a celebrity as well as a quarterback.
Oh, okay. I get it — this is going to be a list of NFL players who are most likely to date someone famous so they become celebrities. I heard Antonio Bryant was spotted at P.F. Chang's with one of the girls from "90210." He's gotta be on the list!
Also, I saw Chris Cooley's dick on this very website once. Does that count for something?