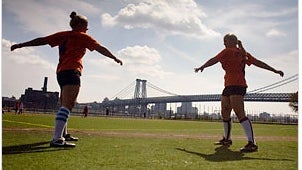 I was a little alarmed to find out the NY Times did a huge feature on Katie and Kristy Barry, two nice young woman whom I had the pleasure of meeting for a drink a couple weeks ago.
Katie had emailed Deadspin a few times in recent months inquiring about internships and professing her love for Deadspin. This was one from back in May:
Hello AJ,

I'm a Deadspin follower and loyal reader! And I'm a girl. I have an identical twin sister ("Barry Blondes"- no asterisk) and a looooove for sports. I play every sport under the sun, retractable roof, or rafters.

I know, take a number...but I'm looking for an internship/job. Or a chance to freelance?

I interned at Sports Illustrated with my sister, then the Jersey Journal (yeah, I know) covering Little League games, roller derbies, and kick-ball leagues. It's a daily newspaper. I worked at the radio station WBGO in Newark, doing on-air recaps of NJ's Ironmen (indoor soccer), Devils games, and Rutgers football.

When I interned at Radar magazine last year, one of my first duties was transcribing a Will Leitch interview (no easy task), seeing as he laughs/talks at the same time. But I was happy to do it! I love the guy's work, and read his (tamer) pieces in New York magazine. When anything sports-related came up, I was on it. One of my favorite Radar assignments was the opening of the Sports Museum (RIP). My allegiances to Ohio sports teams sometimes effects relationships and friendships, and I refuse to believe King James will become to Knick.

For Christmas one year, my then-boyfriend gave me an autographed Rick Reilly picture saying "Katie, please don't take my job."

I don't want his ESPN job- just a job in sports. And I love Deadspin! The approval ratings, the take no shit, the fun-feisty aspect. I also have some good dirt. I liked your piece "Black Eyes, Skinned Knees, and a Pitiful Excuse For a Man"...I play on a few leagues around the city, one tonight, and can attest that bruises are sexy. And badges of honor. I bartend now, and am getting a little stir crazy...especially when I have to clean up blood/vomit, or break up people bickering over the remote.

If a position is/isn't up for grabs, I'd like to meet you either way, and have a beer/coffee. And talk about my email or how the Cavs imploded tonight! Or not...

Thanks for reading- hope to hear from you soon!
Katie Barry
Of course, I get a lot of these inquiries and I usually pass over 95% of them. (No offense to those who do inquire about them.) But Katie was persistent. Plus, during the same week I had the bright idea to buy a gerbil and a frog to recreate football highlights, I thought it would be an equally inspired idea to have two blonde 24-year-old twins who play roller derby intern at Deadspin. The masthead would be kind of sick:
Gerbil (Gerbil@deadspin.com)
Frog (Frog@deadspin.com)

Interns: The Roller Derby Twins
You know, plus Blazer Girl , Moe and Parene, the Bentern and all the other comic book characters/stunt-players I'd let tag-a-long for the ride. This is how my mind works.
It seemed a little too involved to actually have them on-board full-time for an internship, but they were funny and twin-sy and appeared to be motivated to do something for the site. Unfortunately, they couldn't join a roller derby league without health insurance. They also pitched the idea of them joining an co-ed Australian Rules football league. I think that could potentially be amusing. We'll see.
Unfortunately, the Times story came out, it became vulture-bait on Gawker, and now an anonymous former SI writer/editor blasted the Roller Derby Twins as total incompetents in the comments section.