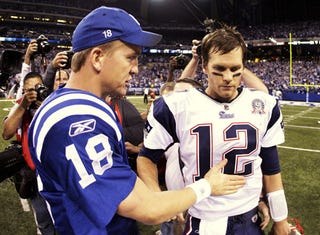 In sports, everybody is a winner—some people just win better than others. Like Peyton Manning, who won the weekend when it was gift-wrapped with a pretty bow and handed to him by Bill Belichick.
In the past week, all the stories leading up to the Big Game were about Manning vs. Brady, Manning vs. Belichick, how the undefeated Colts would finally get their reality check against the dynastic Patriots. Despite all his deadly offensive success, the Patriots were the one team that could still give Manning fits (despite four Colts wins in the last five meetings) as they had ruined many a magical season during his career. And all the focus would still be on Manning today, if it weren't for The Call.
"Wrong."
"Folly."
"Dumb."
"Quizzical."
"Gaffe" and "Hubris."
"Bobble."
"The worst decision ... ever."
"Lack of Faith."
"Disrespect"
"A Bummer."
"Arrogantly Boneheaded."

[Screengrab via]
Pretty much everyone is in agreement that Belichick's decision to go for it on 4th-and-2 from his own 28 is the most arrogantly boneheaded (see?) coaching decision since Julius Caesar woke up on March 15 and said, "I think I'll go into work today." When your only two intellectual defenders are Merrill Hoge and Deion Sanders—noted fan of "swagger"—that's got to lead to some soul searching. (But hey, they covered! That's what's really important.)
As for Manning, his fourth quarter interception appeared to doom him to yet another big defeat against New England, but two more touchdowns in the final four minutes completed a 17-point comeback and his season remains perfect. So what if he needed Football's Einstein to momentarily turn into Andy Reid for one drive? Everyone keeps expecting Manning and his Colts to fold—no Bob Sanders, weaker home field, do they even have a coach?—and they just keep winning. (For now.)