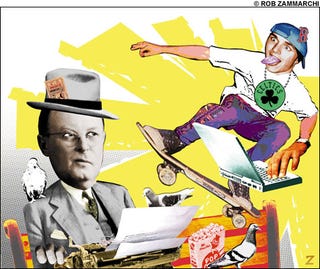 Woody Paige, the orange person always yelling on your television set, recently disagreed with someone on the Internet. He then made a joke suggesting that the blogger still lives in his mother's house. Have you heard this one?
Here's what Paige wrote:
I give my opinion, which is based on sound information, thoughtful research and observation, unlike some kid in Arizona who is a Broncos fan and writes a blog, without proper grammar or punctuation or understanding, from his mom's laundry room and think [hilariously, awesomely sic] he knows what he's talking about, and people actually pay attention.
Aside from the fact that Paige has graciously moved the locus of blogging from mom's basement to mom's laundry room (as is often the case with these jokes, the blogger sadly appears to live in a fatherless home), it's the same old gag. You know the one. Blogger, underwear, mother's house. What follows is a collection, by no means exhaustive, of the bonnest mots flung by mainstream sports media in the direction of the blogosphere over the years. Print these out. Savor them. Read them in your underwear while holding down some couch springs in your mother's basement. I thinks you'll like them.
The Loop, Pioneer Press: "The Washington Post fired reporter Michael Tunison after learning of his raunchy posts on the 'Kissing Suzy Kolber' sports blog. Tunison is expected to join the rest of the sports bloggers in their mothers' basements."
The Loop, Pioneer Press: "The NCAA reversed course and will allow bloggers in the press box to file live updates from tournament games. It's a huge victory for the bloggers, giving them yet another reason to get out of their mother's basement."
Bob Costas, NBC: "It's one thing if somebody just sets up a blog from their mother's basement in Albuquerque and they are who they are, and they're a pathetic get-a-life loser, but now that pathetic get-a-life loser can piggyback onto someone who actually has some level of professional accountability and they can be comment No. 17 on Dan Le Batard's column or Bernie Miklasz' column in St. Louis."