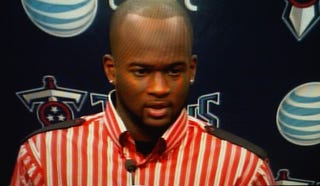 Drew Magary's Thursday Afternoon NFL Dick Joke Jamboroo runs every Thursday during the NFL season. Find more of his stuff at his Twitter feed.
We've got a lot of shit to cover, so let's hop right in.
The Games
All games in the Jamboroo are evaluated for sheer watchability on a scale of 1 to 5 Throwgasms.
Five Throwgasms
Titans at Colts: I was glancing at SportsCenter this week (I don't know anyone anymore who actually sits down and pays attention to SportsCenter while it's on. It's ambient programming at this point, like the Today Show, or John Tesh's music) and saw a segment where Merril Hoge argued with HIMSELF on a split screen. It was called Merril vs. Merril. No lie. It was just like Stephen Colbert's Formidable Opponent segment, only without any sense of irony, and conducted by a retarded person. They even showed Merril giving himself aggravated looks if his other self said something he disagreed with. It's like they replaced Salisbury and Clayton's old testy split screen arguments by throwing up their hands and going, "You know what? Fuck it. Have Hoge do all of it."
Obviously, it makes sense to use Hoge for this segment. I've heard that Hoge has more than enough split personalities to conduct these debates on a regular basis. On certain days, Hoge has been known to turn into Lucinda, a 14-year-old girl who may be a lesbian is too afraid to explore her own feelings about it.
I sympathize with Hoge to a certain extent. He was so intent on proving Vince Young was a bust, then Young proved him wrong, then proved him right, then proved him wrong a second time. It's enough to drive any man crazy, particularly a man who has received 45,872 blows to the head in his lifetime.
Also, if the Titans beat the Colts and pull to 6-6, that would be just about the coolest thing ever. Which is why it probably won't happen. Stupid reality.
Last thing: In the above pic, that is the shirt Vince Young wore in his postgame press conference last week. Goddamn, that is one ugly shirt. Looks like a security guard at Tropicana headquarters.
Four Throwgasms
Vikings at Cardinals: This is the best Vikings team since 1998, which is terrifying. In fact, the similarities between that Vikings team that was favored to go to the Super Bowl and this one are numerous. Both only have one loss (and given the rest of the schedule, it's not unreasonable to assume these 2009 Vikings will also go 15-1). Both have aging QB's who came out of retirement and played flawlessly (Favre and Randall Cunningham). Both have home run threats at running back (Purple Jesus and Robert Smith). Both have Rookie of the Year wideouts (Percy Harvin and Randy Moss). Both have relatively soft schedules. Both have enormous young right tackles (Phil Loadholt and Korey Stringer). Both have shitty head coaches (Denny Green and Brad Childress). Both have Hall of Famers at left guard (Randall McDaniel and Steve Hutchinson). Both have a dominant pass rusher (Jared Allen and John Randle).
I'd argue this 2009 team is even better than the '98 Vikings, particularly along the defensive line, and at cornerback once Antoine Winfield is healthy again. And fucking Prince was in the box last week. Prince never showed up for the 1998 Vikings. Prince is the purple SHIT.
Again, all of this portends nothing but fucking DOOM. It's hard to believe any Vikings team, even one as talented as this outfit, will not find a way to rip out my fucking heart, stick it in a pants press, and squeeze it until it's flat, dead and useless. That's just what the Vikings do. That's who they are. And the fact that the Saints are an even BETTER team in the NFC makes that outcome even easier to envision.
There was a letter in Tuesday's post that demanded I, along with all other Vikings fans, come out and confess my love for Favre now that's he's joined the team and lit everyone up. I'll happily admit I was wrong to hope the Vikings wouldn't sign that wrinkled old cocksucker. He has, indeed, been awesome. Perfect. This is still a winning team without Billy Bob Fuckstain, but not a Super Bowl quality team. He's made an enormous difference, and I'm glad they signed him, and that he makes the receivers better, and that he gives the Vikings an effective two-minute drill, which they've never had before, blah blah blah. That's all great.