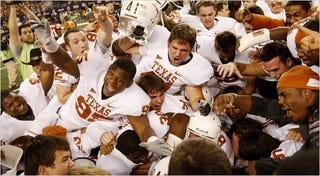 To those of you rooting for the BCS to embarrass itself on a national stage last night, take heart: we are left with the least desirable national championship matchup imaginable.
I, like you, was jumping around with excitement when Nebraska took the lead with 1:44 left. This is it! This is the year we don't get two clear top teams! This is the straw that breaks the playoff-averse camel's back! But because college football is high on spectacle but low on fundamental play, it took just nine seconds for Texas to get down to Nebraska's 26-yard line.
An email being forwarded to pretty much every newspaper columnist in the country is trying to claim that since the Big 12's instant replay rules forbid the use of replay after the clock has run out, NU are the rightful conference champs. Nice try, but sorry. The whole point is, the clock didn't run out, even though Colt McCoy appeared to try his best. (That sequence was especially delicious after we had spent the drive putting up with the announcers praising Mack Brown's clock management.)
No, Texas won fair and square, just like Alabama. Tim Tebow's eyeblack highlighted John 16:33, a verse from the Last Supper. You have to wonder if he knew his run defense would betray him. Alabama owned Florida from the start, and Mark Ingram put an emphatic 3-TD stamp on his Heisman application.