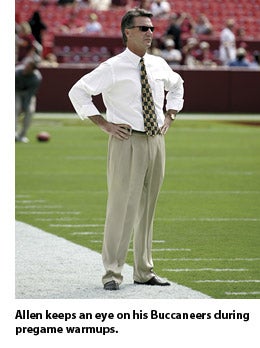 White guy Dan Snyder fired white guy Vinny Cerrato and immediately replaced him with white guy Bruce Allen, so that he can bring in either white guy Mike Shanahan or THIS (white) GUY Jon Gruden. Isn't there some rule...?
Yes, there is a rule! It is called the "Rooney Rule," and it is designed to encourage diversity without forcing it. It operates under the assumption that entrenched, structural discrimination at the executive level has led to, basically, the exact same familiar white faces being shuffled from team to team as qualified minority candidates are simply overlooked. But Goodell says the Redskins, who are patently obviously guilty of exactly the behavior that this rule was designed to address, are in total compliance, because, who knows, they probably had themselves an interview in which Sherm Lewis radioed his best and worst qualities as a manager to Sherm Smith who relayed them to Snyder as Bruce Allen waited for the laser printer to finish delivering his contract.
Hooray for following the letter but ignoring the intent of the law! And hail to the Washington Redskins, champions of diversity!
It seems like they could've thought this one through a little better. A team whose most storied owner decided that "Redskins"—referring, in the most demeaning and reductive way imaginable, to the members of a series of nations that were effectively victims of an intentional campaign of extermination at the hands of the US government—had a better ring to it than "Braves," and who refused to integrate the team until ordered to do so by Congress, a team with this history might think twice about openly flouting the NFL's one single lone rule designed to diversify front offices. You would think!