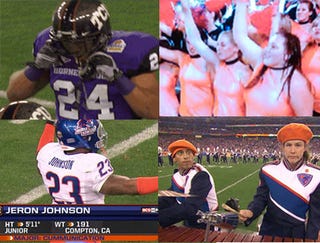 In sports, everyone is a winner—some people just win better than others. Like those who watched the Fiesta Bowl's cornucopia of bizarre and occasionally disturbing images. And then flooded our inbox with every single one of them.
There were four indelible, snapshot-worthy moments from last night's TCU-Boise State matchup that captured America's fancy, before America captured them with crappy cell phone pictures and put them on the internet. Let's remember when:
One: Brandon Cook's stomach troubles.
It's tells you how remarkable the Fiesta Bowl's imagery was that a wide receiver throwing up on himself on national TV barely merits a mention. Thank goodness some people still know how to make animated GIFs.
Two: Boise State's rooting section
Got it? Let's move on.
Three: Jeron Johnson, Cummunication Major
You should all be ashamed of yourselves for laughing at this. The people of the Fox Network spent a lot of money at very prestigious schools to earn their TV dugrees.
Four: Cowbell Girl
Oh, boy. Where to begin? This unfortunate lass is either completely self-aware that she has the worst job in the Blue Thunder Marching Band or is blissfully ignorant of the power of television cameras to turn you into a national celebrity if you aren't careful. Is she bored? Regretful? Drunk? Amused by the turns her life has taken? Does she play any other instruments? Inquiring minds need to know.