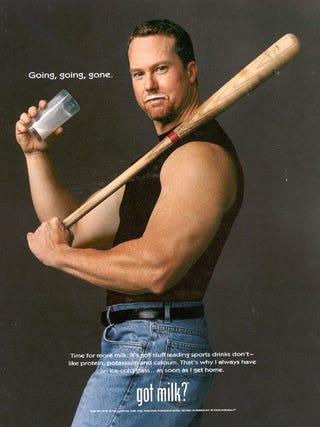 This is not our first rodeo when it comes to steroid admissions. Let's look at Mark McGwire's statement in light of previous guilty pleas, and why he's only now fessing up long after we've all moved on.
He had his chance in 2005, before the watchful eyes of Congress and the TV cameras, and merely gave some memorable non-testimony. Little did we know then he'd only be willing to talk about the past five years in the future.
To be sure, the furor has died down somewhat. We've come to grips that our best athletes look for illegal edges. Hell, it was 12 years ago that we accepted a little bottle of something called androstendione may have had as much to do with 70 home runs as a daily glass of milk.
But that doesn't mean this isn't front page news. Steroid admissions are always a healthy, cathartic way to re-crucify those we felt got off easy — and criticize them for not going far enough in their mea culpa. Let's go through the standard checklist, shall we?
He did it because of injuries, not to get better:
During the mid-'90s, I went on the DL seven times and missed 228 games over five years. I experienced a lot of injuries, including a ribcage strain, a torn left heel muscle, a stress fracture of the left heel, and a torn right heel muscle. It was definitely a miserable bunch of years, and I told myself that steroids could help me recover faster. I thought they would help me heal and prevent injuries, too."
They didn't help him anyway:
I'm sure people will wonder if I could have hit all those home runs had I never taken steroids. I had good years when I didn't take any, and I had bad years when I didn't take any. I had good years when I took steroids, and I had bad years when I took steroids. But no matter what, I shouldn't have done it and for that I'm truly sorry."
He's sorry:
I wish I had never touched steroids. It was foolish and it was a mistake. I truly apologize. Looking back, I wish I had never played during the steroid era."
Let the speculation begin. Is he owning up now because St. Louis demanded he take the hitting coach job without the suspicion following him? Does he think his declining Hall of Fame votes will turn around if he's honest? Was Selena Roberts about to out him?
Regardless of why he chose today, it was estranged brother Jay McGwire who gave the best advice; Mark just chose not to heed it.