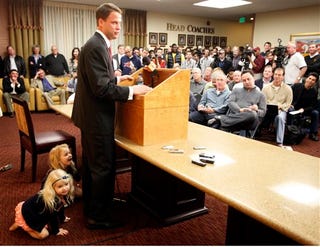 Lane Kiffin and Ed Orgeron quickly turned Tennessee recruiting in a national superstar, but their noisy exit could not have come at a worse time and will leave the Volunteers worse off than when they took over.
National Signing Day is three weeks away and Tennessee doesn't have a real head coach, a defensive coordinator, or a lead recruiter. At least four—and possibly more of their 2010 incoming class have de-committed and may never end up on campus. Complicating matters even more is that this week is a "dead period," which means the school is allowed one and only one phone call (no visits or any other contact) to the prospects on their radar. Mid-year freshmen—who graduated high school early so they could enroll in school and join the team for spring practice—started classes on Wednesday.
Most disastrous of all? Rumors out of Knoxville are saying that the "Orange Pride" hostess program that lured recruits and an NCAA investigation is being "examined" and will likely undergo changes before next year. Don't expect a lot of older women at your high school games next fall, Champ.