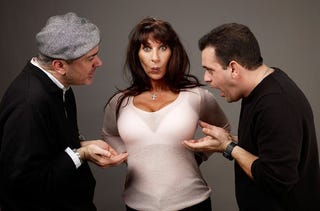 Those of you who haven't seen "Big Fan" yet should buy it immediately: here or here. in real life, "Big Fan" co-star, Serafina Fiore, happens to manage HeadQuarters gentleman's club. She's got some stories.
Serafina plays Gina Aufiero, Paul's sister-in-law, in "Big Fan". Robert Siegel was a former editor at The Onion, wrote "The Wrestler" and directed "Big Fan":



Sarah Schorno interviewed Siegel and Patton Oswalt for us way back in August. He returns the favor by interviewing Serafina about some of the more memorable run-ins she's had with professional athletes at Headquarters. Here's a surprise: Plaxico Burress was not well-behaved when he popped by HQ just a few hours before he blasted himself in the leg.

RS: Sport-wise, who are your favorite customers?