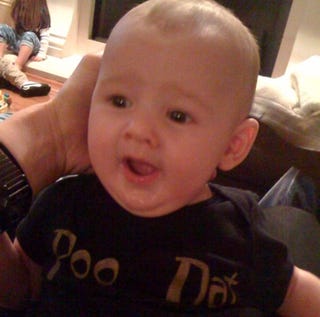 New Orleanian Christian Sauska was there, too, and he sends us the following account:
Super Bowl Sunday started for me in Florida. While for many that may have been the place to me, there was no doubt that I needed to leave and get back home to New Orleans for the main event. The day itself gave signals of different kinds of things happening from the get go, so it all made sense that it would end with the strangest of all being the Saints finally winning the Super Bowl.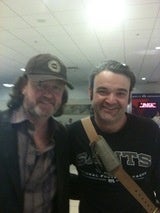 I made it home in time for kick off and shot over to my buddies house to join my wife and kids for the game. My 3 month old, a future footballer for sure, was showing his spirit and embrace of local flavor by drooling on his "Poo Dat" onesie. It's things like this that make a father proud.
After the onside kick and we knew the Saints would win creating the perfect trifecta of weird events for the day we started planning the assault on the French Quarter because,well because it is the French Quarter. Driving downtown was a trip in and of itself. Fireworks going off, people dancing and falling in the streets and the closer we got to the quarter the louder the ensemble of car horns blowing became. Only in New Orleans could all the horn blowing be in rhythm.
The closer we got the crazier it became. Coming up on Canal Street the police were in full force and smiling. This clearly had a different vibe than Mardi Gras. The streets were packed, people were dancing and drinking (obviously) and standing up and getting Crunk. A lot. Funny how that song doesn't get old down here and drives everyone nuts. Apparently it is an aphrodisiac as well because several of the tricked out and pimped out rides blaring the song were scoring with several women and it was the first time I actually saw women making out with cars. It was either the song or the Sprewell Rims on the car. I may never know.
From grown up man mime saints dressed as nuns scaring people from the windows of their French Quarter boutiques to the obligatory Bourbon Street rites of passage of a skinny black man in his underwear ...
... and a woman throwing up on the street ...
... I knew all was going to be okay and normalcy was soon to return.
Oh what a day and oh what a time to be in New Orleans. I hope the passion of the people comes through because it had been building for ever. There is a special bond that exists, the Saints went through Katrina and came back like a lot of these people. I love special things and this was special.
I can't believe my kids get to grow up here.
Got more? Submit to tips@deadspin.com or #iwasthere