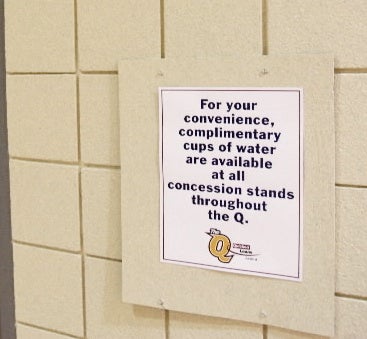 The Super Bowl is a black hole of news; anything non-football is quickly sucked in, never to escape into the public consciousness. Sometimes that's no accident. Here are three stories that were designed to fly under the radar.
•At the behest of the Cavaliers, all the water fountains have been removed from Quicken Loans Arena. The team claims it did so to stop the spread of H1N1, on the advice of the NBA and the International Association of Assembly Managers.
Only problem: neither the NBA nor the IAAM recommend that step.
So, fans who are feeling a little thirsty can wait in line at the concession stands, for a complimentary cup of water. And hey, since they waited that long, might as well pick up some nachos. And a tall frosty beer. In fact, forget the water.
•Hank Aaron. Robin Yount. Bud Selig? The Brewers announced yesterday, in a press release timed to not make the papers at all, that they'll be erecting a statue to Bud at Miller Park, joining the Milwaukee greats.
Dash touched on this this morning, but it's worth revisiting. While Selig moved the team to Milwaukee, and moved them to the National League, it's hard to think of him as the Brewers owner. Instead he's the man who inspired this 18-point, yet still non-comprehensive list of failures as steward of MLB.