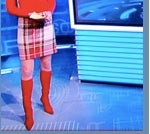 Hannah Storm's been playfully mocked here before due to her — some say "inappropriate" — SportsCenter outfits but apparently some of the Bristol fashion police agreed with Tony Kornheiser's opinion: Weep, Stormtroopers — the red go-go boots are gone.
Yes, according to a source, even though Mr. Kornheiser's comments about Hannah Storm's wardrobe choices were borderline cruel, some of Storm's bosses concur and have requested she not wear the red boots anymore. And this is not the first time she's been instructed not to wear a certain article of clothing. According to the source, there are two other items that ESPN has requested Hannah keep in her closet:
The Puffy Shirt: Yes, this wacky outfit, which caught the attention of Sports Pros(e) writer Kyle Koster due to its similarity to one featured in a popular Seinfeld sketch, was also not Norby — Norby, motherfucker! — approved.
The Daisy Duke Blouse: We can blame this shirt's retirement on Jessica Simpson or, most likely, Dashiell Bennett.