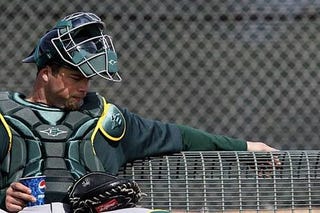 Will Leitch will be previewing/musing on every baseball team each weekday until the start of the season. You can pre-order his book and follow him on Twitter. Today: The Oakland Athletics.
Eventually, the A's are going to leave Oakland. No one knows when this is going to happen, or where they're going to go, but once everybody figures out how much cash gets left in each kitty, and which housing project gets to be torn down for a "ballpark village" that will never end up being built, the A's are gone. Though San Jose is the most likely destination, but, as Baseball Prospectus 2010 argues, it seems smarter for them to leave the Bay Area altogether — something about Billy Beane in Portland makes sense — but that's a decision that, while inevitable, isn't pending.
It stands to reason, then, that the team you're watching right now, the one with the green uniforms and tarp on the upper deck that makes it so much harder to get stoned there, it will someday cease to exist. Unless they're the Raiders, no team keeps the same identity when they move. There's no crossover between Thunder fans and NOOCH fans. The Ravens just pretend their time in Cleveland never happened. Most people I meet in Arizona don't even know the Buzzsaw lived in St. Louis at all. (To be fair, neither do most people I meet in St. Louis.) When a team moves, they not only break their fans' hearts, which is bad for them, they erase a part of our history, which is bad for all of us.