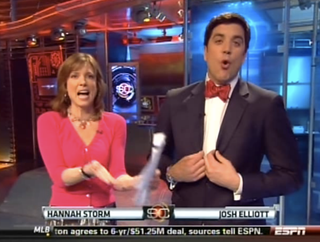 In which we examine the occasionally controversial wardrobe choices on everyone's favorite morning serial. In this installment, Hannah Storm and Josh Elliott.
Hannah Storm's outfits have been the subject of mild outrage during her tenure in Bristol, but for one day at least, all the watchdogs and all the patrician enforcers of social mores can rest easy. Sporting a low-cut — but not too low — magenta cardigan, Storm's outfit says, "I'm serious about my career, but I like to unwind with some Two Buck Chuck when the clock hits five."
For the lower half of the ensemble, Storm has gone with a stylish yet sensible skirt that says, "I'm a mom, but I read Marie Claire too." Her necklace bolsters her "21st Century Woman" look.
On her feet? Simple black heels. As a result, her eponymous boot watch threat level has been reduced to yellow. But, remember, vigilance saves lives. Total Scowling Kornheisers: