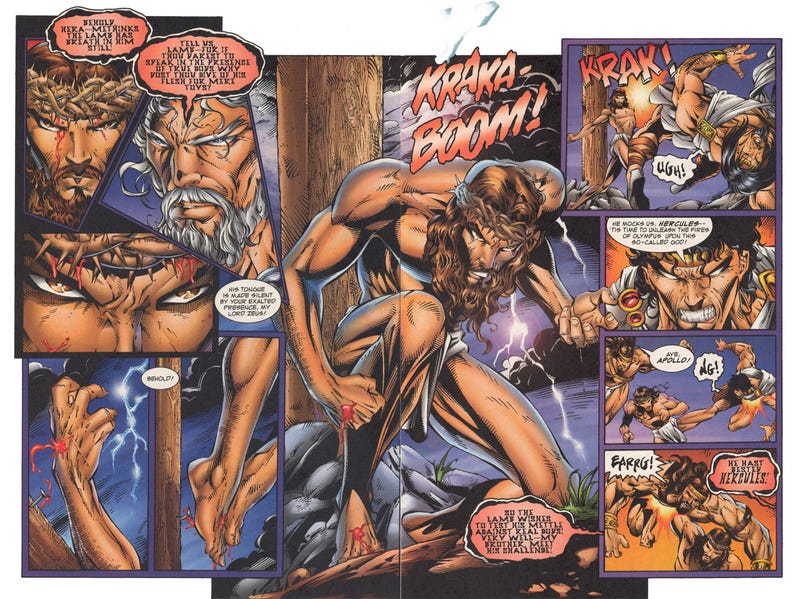 Time for your Thursday edition of the Deadspin Funbag. Find more of Drew's stuff at KSK or on Twitter. Today, we're covering poop, soup, toenails, magnets, bar fights, nuclear holocausts, and more.
My wife went to pick up my kid from school yesterday. Beforehand, she told me they were going to stay a little extra long to hang out at the playground. I, of course, didn't hear any of that because I was too busy playing in front of 150,000 at Castle Donington in my brain. MASTER! MASTER! MASTER OF PUPPETS IS PULLING YOUR STRINGS!!!
Anyway, she goes off to get the kid, I expect her back at 12:30, and she's not back until much later. Because I didn't hear her say, "Hey, we're staying late," I call her phone multiple times to find out where she is. No one picks up.
I have now reached the age where, if someone in my family doesn't answer the phone or is mysteriously late (or late to me, at least), I immediately assume they've perished in some sort of fiery banana truck accident out on the highway. It only takes about five minutes for me to silently panic and play out the next 20 years of my life as a grieving widower. "Oh, God. I'm gonna have to get married again. And there's no way she'll be as cool as my current wife. And she'll want MORE kids. And then they'll have to coexist with my son in an uneasy half-sibling relationship. Then she'll force me to move to Tampa. Then I'll end up growing a ponytail and working for a catamaran tours outfit. OH DEAR GOD NO PLEASE I WANT TO DIVORCE THIS HORRIBLE WOMAN RIGHT NOW."
And then my wife called and all was right with the world again. I swear to God, if one of us perishes in a banana truck accident, it better be ME. Your letters:
Kyle:
Is it wrong that I silently root for a nuclear holocaust/zombie holocaust?
Not really. Listen, not a day goes by where I don't think about walking out my door and suddenly seeing a flash on the horizon, followed by a huge, billowing mushroom cloud. ZOMG! IT IS OFFICIALLY ON!
I remember after 9/11, and they held these Congressional panels where some prick like Rumsfeld or someone like that was like, "There WILL be a nuke detonated here at some point." Well, FUCK MAN! What the fuck do I do now? WHAT AM I PAYING YOU FOR? Now, I totally imagine some asshole with a suitcase bomb wandering into CVS and blowing my ass straight to Hell. Even though the reality of suitcase nukes is debatable. IT COULD TOTALLY HAPPEN. AND THEN WE'RE FUCKED.
Sometimes I'll watch the news, and the BREAKING NEWS icon will come up, and I'll be like, "Oh shit. This is it. CHICAGO IS NO MORE." And then it turns out some white chick is missing. What a tease. What if they bombed New York? Would my cell still work? Would my bank account still have money in it? Would the cable still be up? I am a very shallow person like that.
I also root for a zombie holocaust because I look forward to the day when we beat the zombies and then are able to horde the remaining few inside a Zombie Zoo for our gawking amusement. How much would you pay to visit a zombie zoo? $50? I would, especially if they put it in San Diego.
Jeff:
I sometimes like to imagine "Malkovich Style", that Ex-Girlfriends and friends that I haven't talked to in God knows how long can somehow have a real time sneak peak into my life, just to see how awesome I have become and what they are missing out on, by breaking up with me/not staying in touch in 5 years.

But every time I think of this, and that they may be "peaking" into my life at that very moment, I am always doing something shitty such as just watching TV, making a frozen pizza, playing video games, etc, which makes me realize why they dumped my ass in the first place and that I really should be doing more with my life.

Am I the only tool out there that does this?
Yes, but now you've got me completely freaked the fuck out. Because there's no reason some prick I only know on Facebook couldn't find a portal into my skull, wherein he spies on me banging my sheets. That's horrible. STAY OUT OF MY RIPE VESSEL, ERIC!
Kidding aside, I rarely fear other people staring into my life. UNLESS THEY ARE DEAD. It terrifies me that everyone up in Heaven has those crazy God powers where they can see and hear everything. When someone dies, what's the first thing some fellow griever will say to you? "Well, I'm sure so and so is looking down at us all right now and smiling." Really? Jesus, that's creepy. Why is Aunt Harriet looking down at me? Shouldn't she have better things to do up in heaven, like playing air hockey with Lincoln? I'm not comfortable at all with this giant army of the dead looking down at me while I'm taking a shit or sneaking peeks at some Victoria Silvstedt crotch shot. That's not right. You dead fuckers have a lot of nerve. I wish the sky had Levlor blinds going across it.
Tora:
When I was a starving ex-student, me and my friends would often go to the dollar theater (back when it was actually a buck fifty to see the old releases). We never had money for snacks and never had the foresight to actually buy stuff and sneak it into the theater. Once inside, we would scrounge through the garbage cans in the theater and pull out the half eaten bags of popcorn, shake of a couple layers of corn and commence eating. You would be surprised how many bags of popcorn are barely touched, at least we hoped they weren't touched. It really seemed like a brilliant idea at the time.
No one enjoys eating other people's leftovers as much as I do. I've picked up any number of half-full drinks at bars all across this land (FREE GIN!). But I draw the fucking line at thrown out movie popcorn. That is disgusting. First of all, you don't know if a penis has been in that bag. You don't. Someone easily could have pulled a Mickey Rourke and jammed their cock right up through the bag in an effort to get a hanj.
Secondly, have you seen the other people at the movie theater? They're fucking repulsive. Movie theater people are almost as horrid as airport or bus station people. Any time I go to a movie theater, I want to gas at least 80% of the viewing audience. And that's even before they start talking during the fucking movie.
Thirdly, few foods are eaten in as unsanitary fashion as popcorn. Think about how you eat popcorn. You jam your hand in the bag, cram it in your mouth, then dip your buttery, drooly fingers back down in the bag for another go. By the time you're halfway done, that entire bag is painted with your fucking mouthjuice. It's biohazard at that point.
I worked as a table runner at a fancy restaurant once (same one with the Toblerone sundaes), and you would not believe the shit that came back in uneaten. Entire lobster tails. Veal medallions. Steak. Desserts with a single bite gone. Did we eat it all? FUCK AND YES. No lobster should ever go wasted like that. Much better than stranger popcorn.