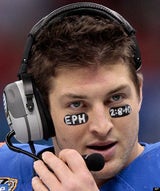 As the NFL Draft approaches, many team fanbases will attempt complex logical gymnastics to talk themselves into using a first-round pick on Florida quarterback Tim Tebow. Today: What does Bill Belichick know that we don't?
Future Tebow Employer: New England Patriots
Justifiers: Karen Guregian, Boston Herald; Pete King, DEADSPIN?; Jeremy Fowler, Orlando Sentinel; Dan Shanoff, Where Dan Shanoff Wants, Random Message Board Guy; and, as always, a couple of dudes on Bleacher Report.
Summary of the Defense: Despite recent evidence to the contrary, Bill Belichick is a crazy genius—and one who just heaped an unusual amount of praise (or words, by Bill Belichick standards) on Tim Tebow. The Patriots have four picks in the first two rounds of the upcoming draft and Urban Meyer and Bill Belichick are buddies, ergo, you should go ahead and order your #15 Patriots jersey.