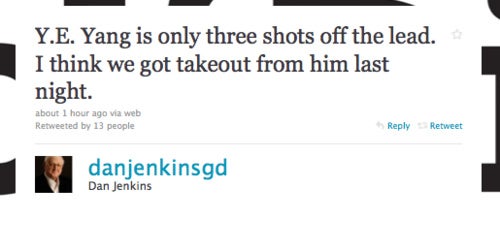 Elder statesman golf writer Dan Jenkins, live on Twitter: "Y.E. Yang is only three shots off the lead. I think we got takeout from him last night." Um, I hope he tipped well?! A roundup of early Twittereplies:
DonNelsonRiley: Perfectly illustrates why Golf is for old white guys. Elitist, old money stink can't be avoided. Full of a$$holes.
fangsbites: I'm Asian and it's not worth getting upset over. I'm letting it go.

RonHogan: Ironically, the 3rd hit on @danjenkinsgd on Google is him discussing "when a funny line becomes a cheap shot" in an interview.

Charles_Aaron: Dang, old white people @danjenkinsgd treat Masters like they're getting a racial mulligan

WhitlockJason: Richard Deitsch, does Jenkins get your see-no-evil Leitch treatment or does he get the tweet-it-own-it Whitlock treatment?

The_Real_LLC: The Yang comment by @danjenkinsgd has everyone a-twitter, but isn't being old and irreverent his entire shtick? I mean, it's bad, but...

TheBigLead: im mostly waiting for everyone who cried bloody murder over Griese to see what their reaction is. will they be consistent?
And this last one from Philadelphia Inquirer columnist John Gonzalez, if true, makes me think that Jenkins should teach a Learning Annex seminar on Missing The Point:
gonzophilly: Just talked to Jenkins. He said it was "just a joke. I was making fun of the name. Sounds like PF Chang."