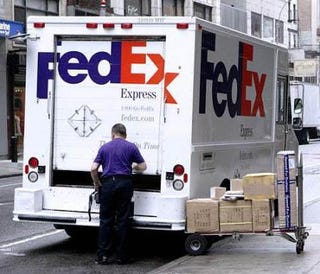 Memphis, stricken by Realignment Fever, is trying to negotiate their way into a bigger conference or, failing that, find a wealthy benefactor to buy them one. Thankfully, they (and their quarterback) have an international conglomerate at their disposal.
Gary Parrish at CBS Sports is reporting that the CEO of FedEx has been speaking with officials from various conferences and has "made it known" that should any of them decide to accept the University of Memphis into their ranks, about 10 million advertising dollars could be headed their way, special delivery.
First of all, can you even do that? How does a private company think it can insert itself into the business of a public school's athletic department? Unless they're a shoe company, of course. (A FedEx spokesperson sorta denies the story.) It's true that FedEx is based in Memphis and they do have naming rights to the Memphis basketball arena and athletic director R.C. Johnson did refer to the CEO and CFO as "two of the highest paid assistant ADs in the history of mankind." So yeah, I guess private companies can do whatever the hell they want to college sports. Still, this seems like going beyond the realm of just being a good corporate citizen—and into the realm of bribery. Perhaps there is something else at work here?
Oh, look at that. The CEO has a son who plays football. For Memphis. What a coincidence.
Yes, Cannon Smith—who will be competing for the starting job for the Tigers this fall—is the son of FedEx boss Fred Smith. He also has a certain Claussen-esque quality about him. For starters, his name is Cannon. (Short for Frederick Buchanan.) He transferred out of Miami after one season of not playing. (Probably around the time he learned he wouldn't be starting for the Hurricanes the next season.) He appeared in both the original and the sequel to "The Sisterhood of the Traveling Pants." (That is not made up.) And the only reason he didn't go to his first-choice college, Mississippi, was because as a senior in high school he was arrested and charged with intent to distribute ecstasy after being pulled over for speeding in his Mercedes. (He was later exonerated and spent a year in military school.) I'd say he fits a certain profile. (Draw that profile however you see fit.)
Now, with a whole lot of luck and some help from Daddy's money, he could be playing games for a big boy school in the Southeastern Conference or the Lil' Big 10. Not that taking FedEx's money would make any difference to them, since they'd just have to give it (and more) back to Memphis as their annual conference payout. So why don't you just keep your fancy envelope money, Fred, and buy some new doors or something. Probably not going to happen.