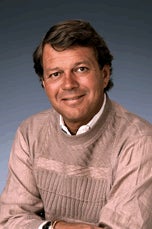 As ESPN ombudsman, Don Ohlmeyer is tasked with examining any professional questions or conflicts of interest raised by the network's coverage of sports and sports news. So naturally, this month's column, posted today, is about vuvuzelas.
Ohlmeyer's got a thankless job. Every month it's, "here's something the network should have done differently," and then nothing ever changes. So it wouldn't shock me if he just threw up his hands and decided to write about a complete non-controversy that's a month old.
What can be said about LeBron: The Decision that hasn't been said better and angrier, here, here, here and here? Not an ESPN scribe among the detractors, but we wouldn't expect that. We would, however, expect the ombudsman to weigh in on this incestuous union of breaking the news and making the news. It's his job.