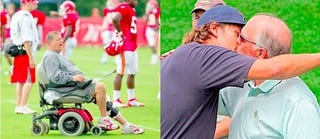 Here's a roundup of training camp stories from around the league.

To celebrate his birthday yesterday, Tom Brady made out with whoever he wanted to. Just kidding. Just his dad.


Dwayne Bowe is growing up fast as a member of the Chiefs, no doubt the result of his feet getting run over by a Rascal-y offensive coordinator during film sessions.


The Chargers are not-so-subtly criticizing ex-teammate and current Jet LaDainian Tomlinson. L.T. hit the exercycle harder than usual in response.


No contract extensions this year for anyone on the Steelers. How to blame it on Big Ben: his suspension will result in everyone else playing poorly so the front office isn't going to get tied down to a bunch of bad contracts.
Breathe. Just five more weeks of this shit.