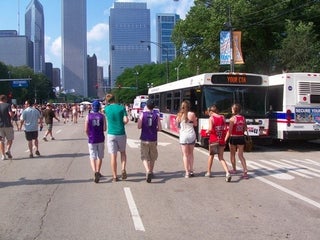 S
This weekend's Lollapalooza was dubbed "Hoopster Mecca" by one tipster, and after sifting through all the submissions it's clear that the hoopsters made Lollapalooza the site of their Hajj. So, here's part one of a multipart series. Christ, just look at these fucking hoopsters. Part One | Part Two | Part Three
Photos via Disco Choo, Redpac, Brendan, et al.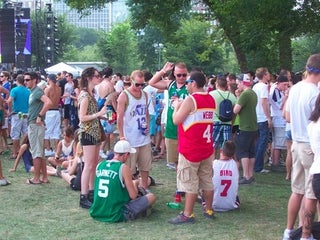 S
Really, a 5:1 dude-to-lady ratio? Shocking. Clearly, Spud Webb and alternate Dirk Nowitzki jerseys are not the pussy magnets they're made out to be by the MSM.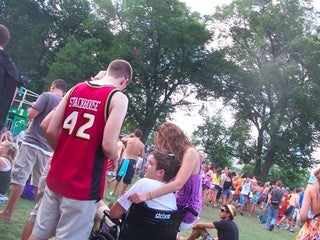 S
1996 Jerry Stackhouse Pistons road alternate? That's sort of impressive.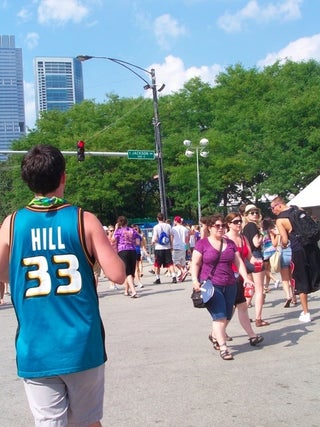 S
Grant Hill Pistons and a neckerchief? All he's missing is a pair of Fila sneakers, some crutches, and the unmet expectations of everyone around him.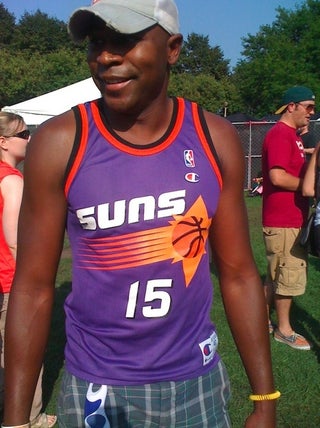 S
Danny Manning on the Suns. If only The Strokes had gone with their original name: History of Knee Injuries.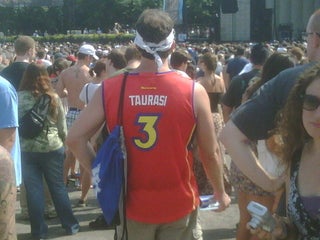 S
Chance of having a good time at Lollapalooza? Greater than .17 percent.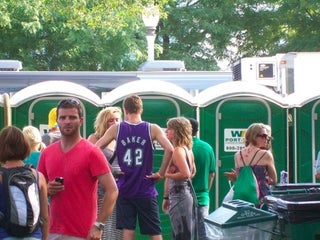 S
You know Vin Baker guy was ironically pounding beers and later unironically puking before changing into a Tyrone Hill jersey.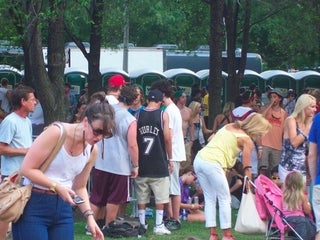 S
Since there isn't a Billy Owens jersey nearby, we're going to assume this guy is just a Weezer fan.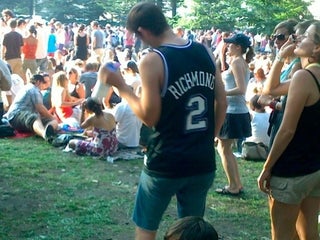 S
The M in "Run TMC" stood for "Wanted More Money And Was Traded To The Bullets."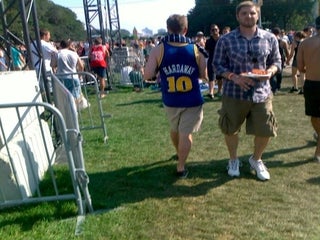 S
Ah, the halcyon days of Nellie Ball, when Tim Hardaway was Mr. Crossover, and no one knew who John Amaechi was.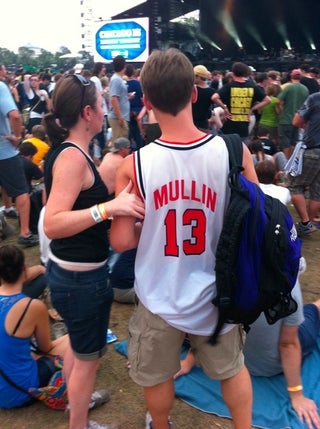 S
The C in "RUN TMC" stands for "Drafted Marco Belinelli."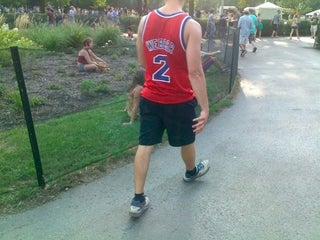 S
Chris Webber wore No. 2 on the Bullets for only one season. Thanks for making this picture happen, Scott Skiles.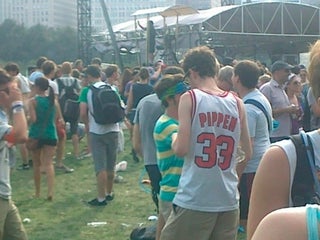 S
You just know this kid's name is Ian or something like that.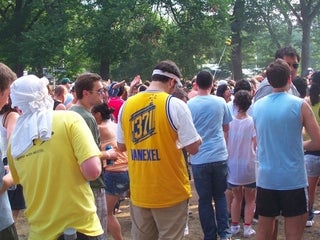 S
"The City" Warriors jerseys are awesome. They reminds us of Inside Moves. Nevertheless, we choose to remember Nick the Quick as No. 31 on the Nuggets.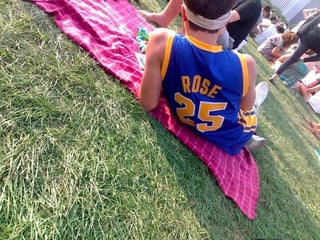 S
Reminder: We are mostly looking for irony. A Derrick Rose Simeon jersey? This guy probably just likes basketball.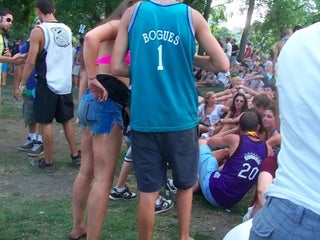 S
That's more like it. Fuck these guys.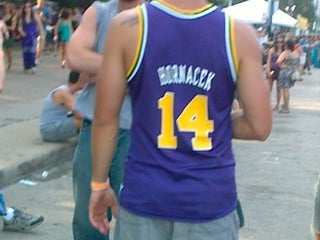 S
You know who this guy should meet?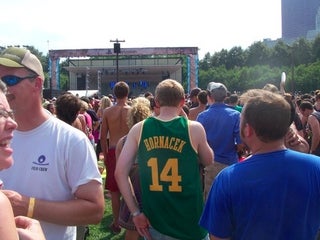 S
This asshole.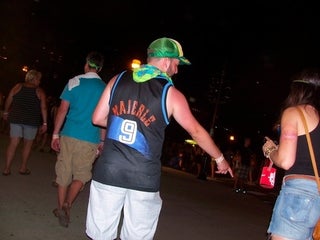 S
And they can both go Tecate Bukkake each other with this guy.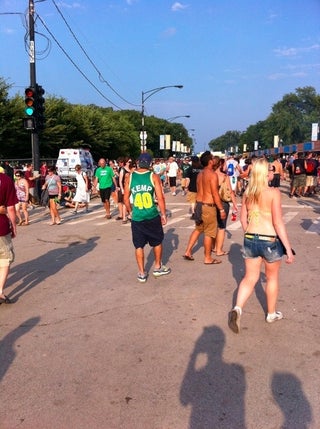 S
Again, this one is pretty cool. The Reign Man was something else.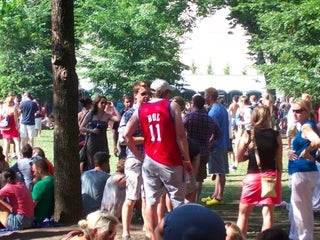 S
Too soon, man.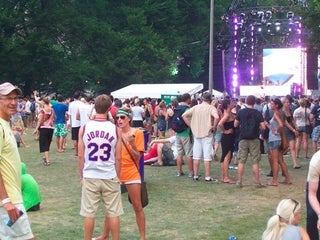 S
Remember in Space Jam when Jordan is playing baseball and strikes out? That was hard to watch. But then Bill Murray popped in and everything was fine.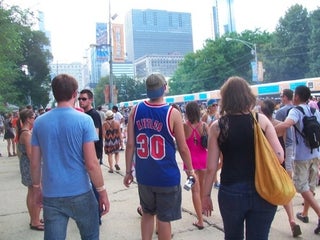 S
We have a four-way tie for last place today. What, no knee-high socks?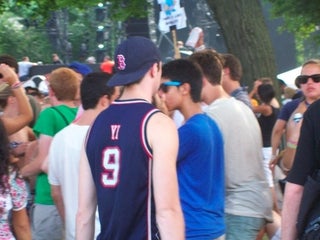 S
Everything about this picture is wrong.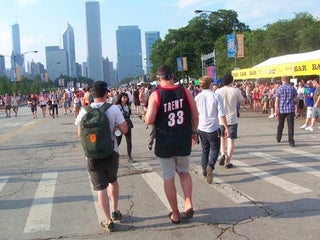 S
Second place in the "Which Idiot Thought This Was A Good Jersey To Market?" category.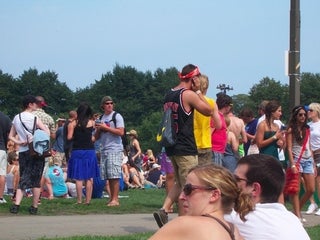 S
The only possible explanation for this Jason Caffey jersey is that this kid actually bought it from Jason Caffey. Deadbeat dads are hilarious.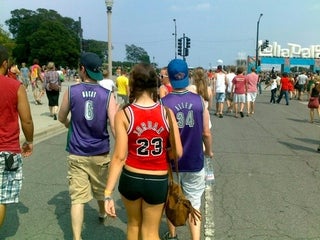 S
They're back! That's all for today. Check back throughout the week to see more of these monsters from Lollapalooza (and maybe some other music festivals if we can get around to them).