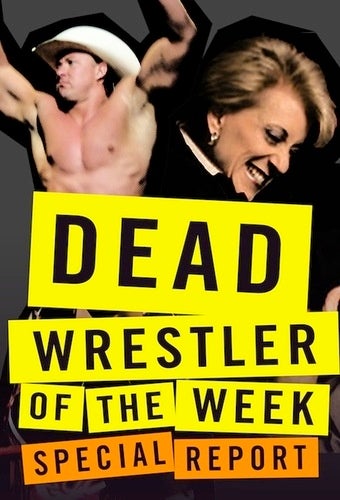 Every week or so, the Masked Man honors the wrestling's fallen and examines their legacies — famous and obscure alike. Today: Lance Cade, who died on Friday of heart failure. He was 29. Already his death has become an issue in former WWE CEO Linda McMahon's Senate campaign.
On Friday, a professional wrestler named Lance McNaught died. His death was supposedly due to heart failure; indisputable is that he was only 29 years old. McNaught wrestled primarily in the WWE under the moniker "Lance Cade," and at various times he certainly seemed to be a climber, a statuesque Texas boy with headliner potential. But that wasn't to be. Despite the fact that he was trained by living legend Shawn Michaels, who had plenty of sway in the WWE locker room until his retirement this year, and notwithstanding the fact that Cade certainly looked the part, he never ascended as high as it seemed he might. He was a three-time tag-team champion, but that was largely in an era in which the tag belts were an afterthought — although it's worth noting that each team broke up with the expectation that Cade would go on to singles prominence, and each time, for one reason or another, it didn't happen.
Which is all to say that he wasn't exactly a megastar. His passing, while tragic, resulted in something less than an emotional outpouring on the message boards over the weekend. He was the quintessential also-ran, but in part because his death came in the midst of former WWE CEO Linda McMahon's bid for the Senate, and because it could be put to immediate political use, Lance Cade's fate has touched on a deeper symbolism: the failure of leadership, institutional irresponsibility, a culture of megalomania run amok, a deceptively fragile young man caught up in the throes of it all.
Last week, three days before Cade's death, McMahon, the wife of WWE chairman Vince McMahon, won Connecticut's Republican nomination for a seat in the U.S. Senate. From the start of her campaign, McMahon's WWE backstory made her an unlikely contender; between the federation's louche storylines to McMahon's own on-screen role (one that her primary opponent gleefully capitalized on in a campaign commercial), she seemed a long shot to be taken seriously. But after spending $22 million of her own money in the primary, McMahon finds herself the Republican option in a bad year for Democrats, and at last count she was trailing her opponent Richard Blumenthal by only 7 points. The Democratic National Committee has already labeled McMahon "a candidate who kicks men in the crotch, thinks of scenes of necrophilia as 'entertainment,' and runs an operation where women are forced to bark like dogs."