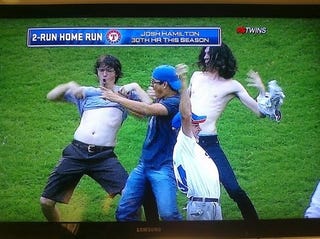 Because no one reads the newspaper, and SportsCenter's anchors are too perky for this early in the morning, Deadspin combs the best of the broadsheets and internets to bring you everything you need to know to start your day.
• Stephen Strasburg performs the final miracle of turning his arm into an image on an x-ray board.
• Book it: Someone will attribute Tiger's first-round performance at the Barclays to the finalization of his divorce. Because all it takes to find your swing again is some clerk somewhere sticking a couple carbon copies in a manila folder.
• Everything you wanted to know about Ariel Antigua, the switch-hitting tyro you all met a few months ago.