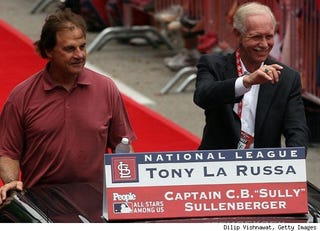 Tony La Russa and I have the same literary agent. This might tell you all you need to know about the state of literature, but nonetheless, it's true. When Are We Winning? was in galleys, my agent sent La Russa a copy.
Here's how the conversation went, as relayed by my agent:
Unfortunate Agent Charged With Attempting To Sell My Swill: It's a good book. It's about Dads, and baseball, and the Cardinals. It takes place at one game between the Cubs and Cards a couple of years ago.
La Russa: Did we win?
UACWATSMS: You didn't, actually.
La Russa: Well, I'll try to take a look anyway.
UACWATSMS: Also, you should probably know that the kid who wrote it is the one who got yelled at by your buddy Buzz on Bob Costas' show.
La Russa: What?
UACWATSMS: You know, the Buzz thing. When he went crazy on HBO.
La Russa: I have no idea what you're talking about.
UACWATSMS: I thought you and Buzz were good friends. It was all over the news.
La Russa: When was the show on?
UACWATSMS: Couple of Aprils ago.
La Russa: Oh, that was during the season. I have no idea what's going on in the world during the season. I'm just thinking about my team.
That sums up everything you need to know about Tony La Russa. For all the talk of his vegetarianism, his law degree, his quixotic lawsuit against Twitter, between the months of March and October, the man's very being is consumed by managing a baseball team. It's why he can seem so insufferable to opposing fans, it's why he makes managing a baseball game appear to be as complicated and nerve-destroying as disabling a nuclear bomb, it's why he is so tightly wound during those nine innings that you're afraid he's going to burst into flame. It's why I love having him as my Cardinals' manager: From March until October, he is so obsessive and focused on what he can control — or what he believes he can control — that the other months, he is lost. It's why you see scenes like this; the man simply has no idea what to do himself when he's not running a baseball team. This is not abnormal; the ant farm that is Major League Baseball is designed to keep the outside world as far away as possible. But this is exactly why Tony La Russa is attending Glenn Beck's rally tomorrow in Washington. He simply doesn't know. Glenn Beck is just some guy who's on television that he and Albert Pujols met in the dugout one time.