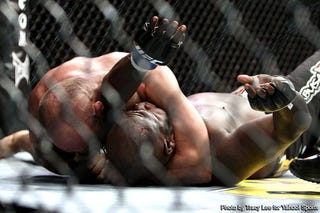 BOSTON — The UFC's first trip to Boston played pretty much to script: Fans were boozy, violent, excellent; the sound system blasted House of Pain and Dropkick Murphys; and James Toney's reputation as the fat Fool of boxing remained intact, even if his head did not.
Before the event (No. 118, if you're counting), the narrow streets outside the Garden teemed with scallywags. A cauliflower-eared Brazilian talked trash in front of the Bobby Orr statue. Fighter groupies — new additions to the UFC fauna — strutted in skin-tight outfits and stilettos. A fat kid with a nuanced grasp of simile sported a t-shirt that said: "I love fighting like a fat kid loves cake." Clearly, it was going to be a heavy night.
As I settled into press row, I couldn't help but reflect upon my recent dealings with the UFC public relations machine, which seems to grow by the day, an indication both of the UFC's unruly expansion and — for a company trafficking in sanctioned brutality — its incredibly thin skin. Things had not gone well. The flacks disapproved of my scribbling and, at one point, suggested I focus more on the action in the cage and less on celebrities tugging pud at urinals. It was apparently deemed gratuitous. I was told I'd made rookie mistakes. I was told, in other words, to get in line. As a pre-condition for granting credentials, an infinitely more accommodating flack nevertheless asked what I "hope[d] to accomplish at UFC 118."