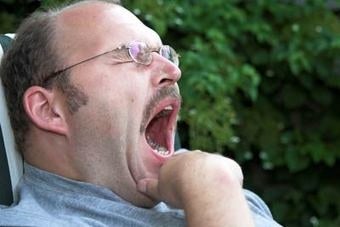 Drew's on vacation, but it's Tuesday and we need a mailbag. So instead of a Funbag, how about a Boring Bag? Today's topics: sidewalks, yawn-inducing numbers, a fish that is fast, and so much more.
Plenty of time for tiddlywinks. Almost too much time. I drum my index and middle finger on any surface I can find when there's not much going on. I either make a beat that I think sounds good but probably doesn't or pretend to be a Morse Code operator. Or just a Morse Code enthusiast.
When you think of boring and sports, most American men will say "soccer" or "Mike Lupica." I think Jeff Blauser. What a boring player that guy was. He was on the Cubs for two seasons after a marginally successful stint with the Braves, but he really brought the boring when he went to Chicago.
He wore the jersey number four, which aside from basketball, is a really boring jersey number. And he seemed like a boring guy. Look at these pictures, and cards here. He's like Michael Young if Michael Young had narcolepsy and still played second base. Sure he had an above-average OBP, but that's probably because he was just too boring to take more hacks at the plate. Boring player? Heck and yes.
Anyhoo, onto your letters, most of which are real.
Ryan:
How does the top 29 scorers in WNBA history strike you? Riveting.
29 is a really boring number. It's not divisible by any interesting numbers. It's awkward to write unless you're the kind of person who starts a nine at the bottom and ends with the loop.
And it's the WNBA which, frankly, is rather boring. There's no dunking; John Wooden thought it was great because of the sound fundamentals; it's on during the summer when you'd rather be watching baseball—another boring sport?—or drinking outside somewhere because it's so damn hot and all that's on TV is the WNBA. And how come there's 29 for PPG but a nice, round 30 for total points? No. 3 on the total points list is Katie Smith. I could probably name the top 10 or 15 players in WNBA history sadly, and I would never have thrown Katie Smith in there, mostly because I've never heard of Katie Smith.
That being said, Ryan, these women are most likely better at basketball than you, me, Bill Simmons, and most male Division III players. So they deserve a modicum of respect from us. Plus they get to shower with like 11 other women on the reg. That's something to be admired, right?
Jacob:
I stepped on a bee yesterday.
I'm guessing you were wearing a shoe, right? Or sandals? A particularly thick sock? When does bee season end? Did you ever see Bee Season? That Richard Gere sure can make a boring movie these days.
Back to regular bees. In fifth grade, I was stung on the ear by a wasp and had to go the hospital because my ear became swollen. It was the first time and only time I've had an IV. That's got to be the most boring reason for having an IV, right? If you're dehydrated and you need one, you've probably been out partying or playing flag football or mountain biking — those are good reasons to get an IV. Not because you got stung by a wasp outside the Field Museum.
Matt:



I am not a fan of fishing. But I really like to eat fish. But when you think about it, how boring is seafood? Sure, salmon is delicious, but for the same price, can't you get a steak? But sometimes you just really want some salmon or cod. Fish and chips is a really boring restaurant order, though. Can't get behind that.
Gavin:
I'm trying to decide on a new pair of pants. Beige or slightly more beige?
Go as beige as you'd like. And pleats. Pleats are boring.
Scott Rudin's NFL MVP Watch!
Time to start thinking about who the leaders are for the NFL's MVP award. So this one week only, boring Hollywood producer Scott Rudin will join us to give us his assessment. Take it away, Mr. Rudin.
Probably Peyton Manning.


Intermission!
Cam:
Are the Gawker offices just a giant basement? Or is it actually an office? If it is a real office, do the io9 guys blog from that basement?
It's an office and it's actually really nice. Everyone from all the sites sits together in these long tables, but with clearly demarcated borders. Except for the video interns. They're stuffed away in a corner. It looks like they're playing one of those computer games that a lot of people play together. The office itself is on the fourth floor of this building, and the stairs are pretty steep. Everyone's around though. Remember the picture of Babs? I think those are io9 people behind her. I couldn't tell you for sure, though.