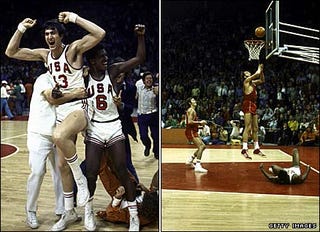 From time to time, we'll select stories — old and new, sports and otherwise, relevant and merely sublime — that we urge you to read for one reason or another. Today: The 1972 Olympic team, still bitter about losing to the Soviets.


"A Few Pieces Of Silver," by Gary Smith (Sports Ilustrated, June 15, 1992)
Suggested readers: Anyone wondering why Mike Krzyzewski and David Blatt have gone all shoe-poundingly bitchcakes on each other
Note: The story is a sort of oral history with the 12 members of that '72 U.S. team, 10 of whom claimed, in 1992, that they still didn't want their silver medals. A postscript adds: "The reality is that except for one or two players who didn't turn in their votes in 1982 and 1986, only three voted no to accepting the medals in the first vote, and only two voted no the second time, according to sources at USA Basketball. Could it be that roughly half of the team that made its stand for honesty and integrity in 1972 is...fibbing?"