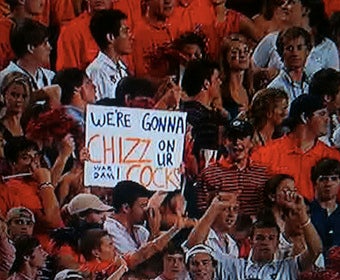 Because no one reads the newspaper, and SportsCenter's anchors are too perky for this early in the morning, Deadspin combs the best of the broadsheets and internets to bring you everything you need to know to start your day.
• Albert Haynesworth told a D.C. radio show that he's no slave to the 'Skins.
Fun fact: $100 million contract notwithstanding, he'd rather just go hang at Wal-Mart. Fun fact No. 2: Haynesworth may not realize slaves or something didn't get, you know, paid. [106.7 The Fan and ESPN]
"I'm not for sale. Yeah, I signed the contract and got paid a lot of money, but ... that don't mean I'm for sale or a slave or whatever."
• Heeding a sign-writing fan's wishes, Auburn Chizz'd all over the Gamecocks last night; 35-27 final. [The State]
• Insufferable shit Tony Dungy gives the Yankees a pep talk. Aw.