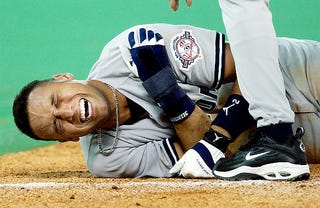 Time to ring in a new annual tradition around these parts, in which we say horrible, awful things about all the teams involved in the playoffs this year. Let's do this.
I used to love baseball when I was a kid. No lie. I used to watch games, and go through the Twins team stats in the paper each morning, trying to figure out what the acronyms meant. I studied box scores. I looked forward to the Star Tribune's "Player of the Day" box inside the sports section. I stayed up late to watch playoff games. I used to practice pitches by throwing a plastic pumpkin at the wall in the living room. I did all that gooey, sloppy, corny baseball kid shit.
I don't do any of that anymore. This is because I'm an adult, and baseball is strictly for kids and old people. There's a reason why kids are so drawn to baseball, and that is because being a kid is really, really, really fucking boring. I can't stress this enough. Being a kid is endlessly dull. I see it in my children's faces now. They're bored senseless five seconds after getting to the playground.
It makes sense, when you think about it. When you're a kid, you have endless amounts of free time. There's no work to occupy you. Hours seem to take years to pass by. You can't drink. You can't do drugs. You can't jack off or fuck other people. And you can't watch cool movies like Dark Knight because you're too stupid to understand them, or you're such a pussy that they scare you. You can't drive anywhere. You can't read cool books. You can't do JACK SHIT except run around and watch Nick Jr. It's a horrible, brutally boring existence.
This is where baseball comes in.
Baseball is perfect for children. It's on every day, so it fills up time during summer vacation. And every game takes fucking EONS. It's a boring sport designed specifically for people with boring lives, and kids fit that bill perfectly. Also, kids are stupid enough to believe that every baseball game HAS JUST A BIT OF MAGIC IN IT. That's the key to baseball's kiddie appeal. That incredibly stupid "magic" idea that Bob Costas will bust out from time to time. Kids eat that shit right up.
Anyway, once I grew older, I stopped giving a shit about baseball because I found other cool shit to be interested in. Playoff baseball is all right. But I dunno, whatever. I don't think this sport is anywhere near hateful and aggressive enough for my tastes, the way football so nakedly is. Yeah, people will tell you that Red Sox and Yankees fans hate each other. But secretly, you and I both know that Sox and Yankees fans enjoy retreating to the University Club each night to share cigars lit with hundred dollar bills and bask in their collective domination of the sport. They are secret lovers who desperately want to fuck in an enclosed space, and no one can tell me any different.
To give you an idea of what's wrong with baseball, I'm gonna direct you to this passage from Leitch's book, which is very good and you should buy it and you should read it except for this passage, which is gay:
Baseball brings out our better natures. Baseball makes us more neighborly. Baseball encourages us to be more kind. Baseball releases us from our solitary, misanthropic selves, the self-indulgence, the tunnel vision, the xenophobia. It allows us to share…
I'd transcribe the rest, but I'm still puking. Guhhhh. Who wants a sport that makes people nicer? (And I've been to Yankee Stadium. That passage is a LIE). This is the 21st century, the Golden Age of Hatred and Social Isolation. I need sports that let me HATE HATE HATE HATE HATE. FUCKING HATE. This is your problem, baseball. You make grown men get all weepy and annoying, instead of spiteful and angry.
Well, I'm not taking it lying down. I am here to fix these boring-as-shit MLB playoffs by injecting it with extreme doses of ignorance and general rancor. That's right! It's time to strap on our roastin' boots and get right to gettin' drunk and feelin' mean. Again, these observations have been made with as little knowledge and insight as humanly possible, for knowledge and insight are the sworn enemies of a good hate-on. I enlisted your help in hating all eight of these teams, and you didn't let me down. Let's dive in, shall we? IF YOU WANT BLOOD, YOU'VE GOT IT.
Atlanta Braves (91-71, NL Wild Card)
FUCK. YOU. Remember, this is the team that was given a national platform on TBS during the infancy of cable television. And not only did Ted Turner pimp them relentlessly, but their promos also had the balls to say that the Braves were "America's Team." This is a team that can't sell out a fucking playoff game, yet you and I are supposed to sit back and let TBS — the one network that somehow does a WORSE job of presenting televised baseball than FOX — try and tell you the Braves are baseball's answer to the Dallas Cowboys? That is fucking horrible. It's like Ted Turner was just asking you to despise them. Well, mission accomplished, you bison-eating child rapist.
Also, Bobby Cox is a fucking wife beater. I like how people play up his ejection record, as if it means he's super fiery and competitive and uses ejections to rally his team. No, no he got tossed a zillion times from games because he's a FUCK. Let's dredge up this old chestnut. The best part is when he got drunk!
According to the police report, the Coxes had been entertaining friends when Bobby spilled a drink on the carpet of their northwest Atlanta house and Pamela made a comment about it. The report said that after the guests left, Bobby, 53, "hit her in the face with his fist," pulled her hair and called her "a bitch." When they reached the house, the police reported, they heard arguing inside, where they found Bobby drunk and Pamela with the left side of her face swollen.
Real reasonable fellow right there.
MRS. COX: Dear, perhaps that spilled drink is an indicator you've had too much to drink.
BOBBY: (fucking fist to the jaw)
Asshole. And the Tomahawk Chop is worse than Parkinson's Disease.
More from reader Matt:
The city of Atlanta makes no fucking sense....streets just end, they have rotaries...who the fuck still has rotaries??...it's like a blind person on a drunk donkey designed the fucking place.
Cincinnati Reds (91-71, NL Central Champs)
This is where I again remind you that I went to summer camp with lots of kids who were from Cincinnati. Their favorite joke was the following, sung in a Sambo/Mammy blackface dialect:
BARBECUE, WATERMELON, CADILLAC CAR!
WE'RE NOT AS DUMB AS YOU THINK WE IS!
They told this joke often. Hey, why mess with perfection, am I right? YOU PEOPLE ARE RAYCESS.
I drove through Ohio once and thought I had died. No, really. As we were driving, I thought to myself, "Wait a second. I think I had a heart attack 50 miles ago and died while at the wheel. It's so obvious, given the wasteland surrounding me right now. This is clearly the In-Between, where I will stay for a predetermined period of eternity." That's what Ohio is. It's a zombified landscape, where everything has been left to fucking DIE.
I have no idea why anyone would cheer for the Cincinnati Reds, given that they foisted upon the world the following three people: Pete Rose, Joe Morgan, and Rob Dibble. I can't even begin to figure out which one of those men I dislike the most. I can just picture ol' Pete in the locker room back in the '70s, slapping Morgan on his inexplicably naked ass, right before heading out for a long night of betting at the track and banging his son's girlfriend.