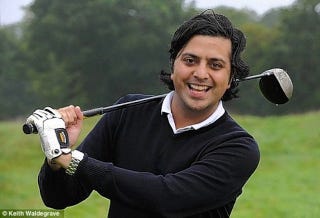 Because no one reads the newspaper, and SportsCenter's anchors are too perky for this early in the morning, Deadspin combs the best of the broadsheets and internets to bring you everything you need to know to start your day.
• The lights came up on Cigar Guy after last call and what were we left with? Rupesh Shingadia, 30, investment analyst in London, lives at home with mum and dad, costumed himself as tribute to Spanish golfer Spanish golfer Miguel Angel Jimenez. F, M, K? [Daily Mail] (H/T Last Angry Fan)
• Former Chicago Cub Mike Remlinger has sat on Sammy Sosa's corked bat for long enough. So, now he's auctioning it off to the highest bidder.
The bat barrel, in which cork is visible, was authenticated by Remlinger and PSA/DNA Authentication Services, and could bring in excess of $10,000. Bidding was still at the starting price of $750 late Friday.
Remlinger now works in the emerging field of life coaching. ...
"I did try contacting Sammy about it last year to see if he wanted it back," says Remlinger. "His personal assistant said Sammy was interested in getting it back, and he'd get in touch with me, but I never heard from him. [Chicago Tribune]
Narc. (H/T Tomuban)
• Cocks. [The State]
• Now that Florida Guy's gone 0-2, gotta figure Mississippi State hopes he dresses his stripper gal pal up like a stripper again next week. [ESPN.com]