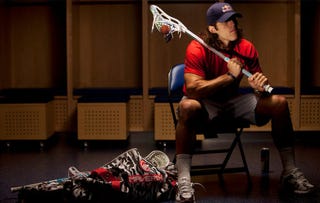 Yesterday's NYT slobjob of professional laxer Paul Rabil argues that he represents "a different way to think about lacrosse players." He's a big shaggy-haired white dude who went to an all-boys Catholic school in Maryland. Wow, what a brogue.
"Can Paul Rabil Make Lacrosse Sexy?" asks the headline of the disturbingly long Thursday Styles ode to Rabil, Major League Lacrosse's reigning MVP. As if that's the sport's problem, first of all, but I digress. The piece features the usual shoehorned-in tangents and odd historical factoids that are practically house style for these sorts of things. But most grating are the lengths writer James Vlahos goes to to distance Rabil from the quirks of the very sport whose profile he is expected to raise.
Thousands of articles have been written about the lacrosse scandals of the last few years, but you only have to skim a handful to learn the stereotypes. Players party too much. They're prone to violence. They're entitled rich kids smashing mailboxes with their lacrosse sticks before blazing off in daddy's Ferrari. A sampling of recent headlines includes "Lacrosse Afflicted by Sense of Entitlement" (The Baltimore Sun) and "Lacrosse Breeds Awful White Kids" (from the sports blog Dueling Couches).
Lest you're wondering whether I'm just jealous that "Are The White Boys Of Lacrosse Predestined To Be Dicks?" didn't make the cut, the answer is obviously yes. But come on: blazing off in daddy's Ferrari? Who created that stereotype, Bret Easton Ellis? Think about it: a Ferrari would only comfortably fit like two dudes and their equipment, no bromo, whereas real lacrosse players prefer to "roll deep" whilst "getting after it." The getaway car would be mom's Navigator.