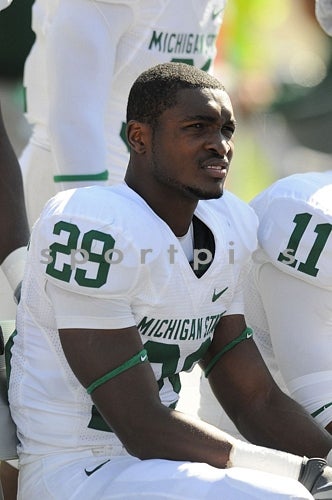 Michigan State CB Chris Rucker got drunk and backed his car into another vehicle. It's the kind of thing that happens all the time, except for the part about the vehicle's owner, an MSU student, pleading with police to let Rucker go.
Early on the morning of Oct.10, Michigan State cornerback Chris L. Rucker backed into another car in a 7-Eleven parking lot and was arrested after recording a .095 blood-alcohol level on a breath test.

About a half-hour later, Rucker and the car's owner had struck up a friendly conversation as he was sitting in the back of a police vehicle, and the owner pleaded with two officers to set Rucker free, thinking he was under arrest for the wreck.

"If I don't press charges, could you let him go?" asked Patrick Weaver, an MSU junior and the car's owner.
Weaver now claims he didn't know Rucker was a football player, and that he just felt bad for him. That would be more believable if East Lansing didn't have a history of going easy on its athletes, and if this wasn't so common at big sports programs.