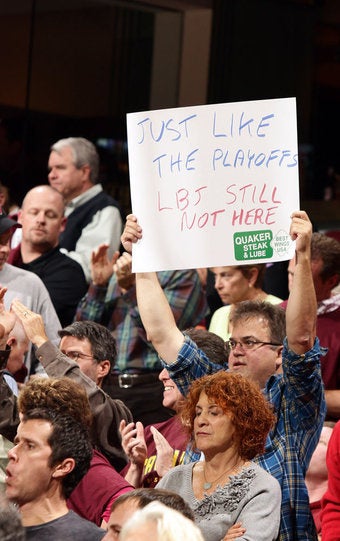 FreeDarko's Bethlehem Shoals, a regular contributor to NBA FanHouse and co-author of The Undisputed Guide to Pro Basketball History (visit the FreeDarko store, too!), is keeping a game-by-game diary of the Heat's season — the one you're pretending not to care about.
Results: Heat 97, 76ers 87; Cavaliers 95, Celtics 87
Record: 1-1
Cavaliers record: 1-0
"I was a little shocked at how quickly it ended ... But that is how life goes in the NBA."
That was former Cavaliers coach Mike Brown, speaking with the NBA TV crew. Conventional wisdom, and most common sense, held that the loss of LeBron James would cripple the Cavs, blasting them back into Cleveland basketball's Stone Age so completely that you'd half-expect Austin Carr to take the court and break something. New coach Byron Scott had taken the job before James had revealed his plans; point guard Mo Williams contemplated retirement. Owner Dan Gilbert could only express himself in a font designed for children and the mentally disadvantaged. There were riots in the street and fire in the sky. After the loss to Boston, LeBron reminded reporters that "Rome wasn't built in a day." It wouldn't take a student of history like Amar'e Stoudemire to tell you that empires fall much faster, and with much more violence.