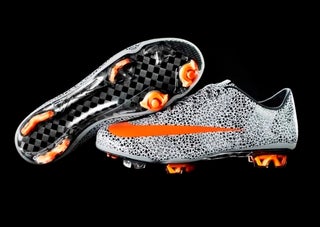 S
Stylish young man Cristiano Ronaldo proudly unveiled his horrific new safari-print football boots yesterday (click the pic for a closer look.)
Says CR9:
The CR Mercurial Vapor SuperFly II [good grief] makes a statement on pitch and the Safari print expresses my style.

Combined with incredibly light and responsive performance the boot gives me everything I need to elevate my game.
And anyone spotted wearing these at Sunday League will have their game elevated as well, since they'll spend the entire match being clattered 3 feet into the air at every opportunity.
This post, written by Richard Gilzene, is republished with permission from The Spoiler. Go there often if you like soccer stuff.