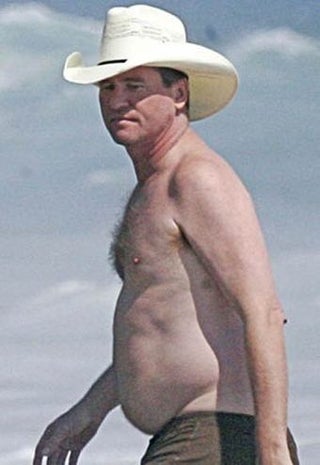 S
[Ed note: Yeah, that pic might could actually be Val Kilmer, but I'm of the mind that Wes Helms and Kilmer share the same soul after looking at it for a good long while.]
Per The Fish Pond, "Logan Morrison and Wes Helms will be among the contingent of Marlins traveling overseas to visit the troops in early 2011.
For the second straight year, the Marlins will be spending time and supporting those serving in the armed forces. The trip will be from Feb. 3-11.
That's nice of them.
For what it's worth, Helms (pictured) is a kickboxing aficionado from a military family.
"I love the military. My father, my grandfather, a lot of my family members were in the military. I've just been a fan of the Navy Seals. They go in for special missions. They're the guys that go in and rescue the POWs and stuff like that. If I did it, I would want to go in and be one of the best of the best. I'd be in the Navy Seals, Delta Force. I love the way they train. I think it'd be fun to train the way they train. I love the conditions they put themselves in with the cold, extreme water. I just think it'd be fun to put your mind and body to the test and see how can handle it." [Sun-Sentinel]