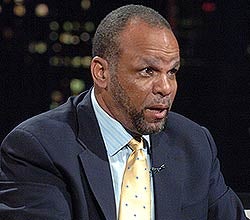 On Monday afternoon, the New York Times website published a William Rhoden column titled "The Day the Patriots Empire Began to Crumble." But it was actually The Day the Patriots Earned the NFL's Best Record. The Times regrets the error.
The original column somehow went up at 4:00pm on Monday, and commenters got right to it. Times Sports editor Tom Jolly explained to Yahoo's Cutline that Rhoden "wrote an early column for the first edition and the Web and then updated it to reflect the outcome," which of course was a 45-3 win for New England. No word, though, on why it was published prior to kickoff.
Rhoden did not predict the dismantling. He wrote with the impression that New England had lost, and that this meant something serious for Bill Belichick and his Patriots. A "shift in power was taking place," Rhoden explained, and after the phantom Patriots loss on Monday, it had been finalized: "the Jets are in ascendancy, while New England is in retrograde." Is that so.
To coin a phrase, Rhoden really went out to the movies on this one. His argument — and it somehow stayed put in the more up-to-date article published in Tuesday's paper — is shaded with moralizin' and repentin'. He believes that Belichick's fall from grace began with Spygate three years ago. He wrote that with the scandal,