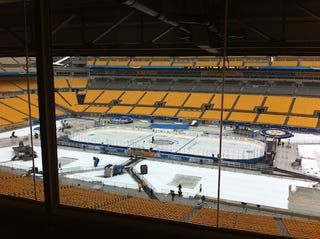 Our puckhead Katie Bakes is dicking around scenic Pittsburgh for the NHL Winter Classic. She has filed the following icy report.
Hello from misty, cloudy Pittsburgh! The city sure is jazzed for tomorrow's Winter Classic. They've decked out the entire Westin hotel with game-themed flair, right down to the room keys: I was handed two of them, one Sidney Crosby and the other Alex Ovechkin, of course. And last night as I went searching for food I saw dozens of people walking around town in Pens jerseys (many of them retro baby blue) although it's unclear whether that's specifically in advance of tomorrow or whether that's what people in Pittsburgh, like, wear on the regs.
By the way, Yuenglings cost $2.25 here. Fuck you, New York.
They're letting anyone into this thing: I'm typing this from the Heinz Field press box, where, unlike my miserable journey to another Pennsylvania football stadium, I actually was awarded a seat. I felt important and beloved by the league until I spotted "BroBible.com" on the credentials list a few seats down from mine. And next to me is a nice lady from the Bleacher Report, so.