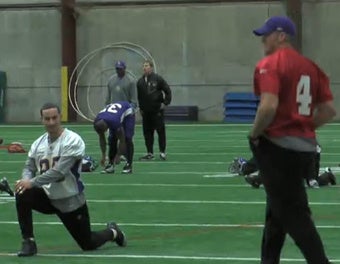 Because no one reads the newspaper, and SportsCenter's anchors are too perky for this early in the morning, Deadspin combs the best of the broadsheets and internets to bring you everything you need to know to start your day.
• In 30-plus hours, the career-highlight collections will start amid countless shots of Brett Favre standing on the sideline [NFL.com]. Then, they'll end and America will be left without a hero. The blue bus is calling us all. [Vikings.com] (H/T Cosby Sweaters)
• Somebody from UCF punched somebody from Ga. in the faceguard after yesterday's Liberty Bowl. (H/T Dustin K.)

• Michael Haywood was named University of Pittsburgh football coach on Dec. 16. He waited 15 days until a domestic-abuse arrest in which he allegedly held the mother of his 21-month-old child "in a choke-hold." [Post-Gazette]
• The NHL's Winter Classic won't start until 8 p.m. [NHL] Wonder how Katie Bakes plans to gear up for the show.