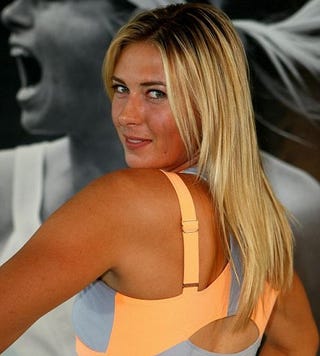 The Australian Open starts tomorrow, with Rafael Nadal going for a not-quite Grand Slam. It's "not-quite" because while he'd win a fourth consecutive grand slam, it's not in the same season and Rod Laver won't let that historical-aggression stand.
Meanwhile, ESPN2's trying to figure out how to get ratings despite a 16- to 19-hour time difference in America. Maybe Maria Sharapova's new duds will draw some stateside eyes.
Or maybe it all comes down to whether Andre Agassi will offer up nude pics of his wife for the cable-viewing audience.
****
Thank you for your continued support of Deadspin. But before I go, allow me to recommend tonight's roller-derby episode of CSI: Miami: "The only thing shorter than the girls' skirts are their tempers."