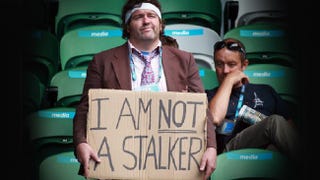 Because no one reads the newspaper, and SportsCenter's anchors are too perky for this early in the morning, Deadspin combs the best of the broadsheets and internets to bring you everything you need to know to start your day.
• Even if this is all just a bad extended joke (especially bad given, you know, the history of delusional women's tennis fans), New Zealand journalist James McOnie could use some guidance on how to not act like a stalker in his alleged stalking of Maria Sharapova.
• Blake Griffin had 47 points (19 of 24 from the field) and 14 rebounds in the Clippers' fifth-straight win, this one over the Pacers. For real winners, emasculating dunks over opponents isn't ever enough to prove your presence in the league.