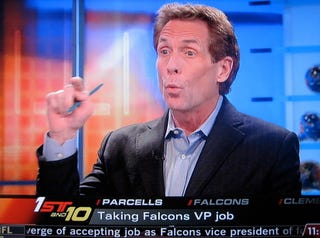 Drew Magary's Thursday Afternoon NFL Dick Joke Jamboroo runs every Thursday during the NFL season. Find more of his stuff at his Twitter feed.
Championship Sunday! BOOSH! One of these games always sucks, but which one? I need to plan my binge drinking accordingly, dammit! If I get blazingly drunk during the first game and it's awful, I won't be lucid enough to enjoy the second, especially now that Four Loko has been outlawed! I wish they'd let you know the shit game in advance. Let's dig in to this feast.
The Games
All games in the Jamboroo are evaluated for sheer watchability on a scale of 1 to 5 Throwgasms. And during the playoffs, I pick the games, because why not.
Five Throwgasms
Packers (-3.5) 34, Bears 24: Our own longtime commenter Lt. Winslow has a foolproof strategy for beating Chicago:
Is it really possible that nobody has figured it out yet, that the way to stop Jay Cutler is to rub the ball down with sugar? Seems like basic common sense, no?
Sure does! Either way, I'm not picking against Aaron Rodgers again. If the Packers win this game, Ted Thompson should be allowed to walk around Green Bay with his dick out for at least a month, and he should be able to rub his dick on anyone wearing a Favre jersey without repercussions. Please note that Skip Bayless said this on ESPN Radio in November of 2008:
"Ted Thompson's running Brett Favre out of Green Bay was the biggest mistake by a GM in the history of the league."
Shouldn't Ted be allowed one cockpunch on Bayless for that? Speaking of Favre, we need to go back to this text message from Tuesday: