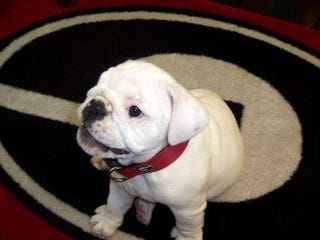 A recruit hoisted a puppy, a mother forged her son's signature on a letter of intent, CBS made Rich Rodriguez interview his successor at Michigan, and many hats were donned. Signing day! First comes the built-up signature, next comes crushing disappointment.
Here's a brief look at the shining stars who made National Signing Day 2011 as unmemorable as the last.
The Recruit Who Instantly Endeared Himself To Coeds Everywhere: Isaiah Crowell, the Georgia running back who announced his intent by pulling a hat out of his sleeve and then displaying a baby Uga puppy for the crowd.


The Recruit With The Worst Case Of Helicopter Parentage: Floyd Raven, whose mother tried to help him out by forging his signature on his letter of intent to Mississippi. Raven, though, had fully intended on sending his letter to Texas A&M. He called the forgery an "honest mistake," but Mississippi head coach Houston Nutt says "mom really wanted him [at Ole Miss]. Mom wanted him here in the worst way." Mom and Floyd need to have a sit-down.
The Preppiest Signing Day Video Ever: These six dapper young gents from the Ensworth School in Nashville, Tenn. What character!

The Recruit Who Really Needs To Explain Who Has Ever Said This About The Steelers And Iowa: Darian Cooper, a tackle from Maryland's DeMatha High School, who said, upon signing to Iowa, "I can't speak for everybody, but I know Iowa is an amazing place. It's a lot slower pace... In this area, you can get caught up in the hustle and bustle. They say Iowa is the Pittsburgh Steelers of Iowa."
The Former Michigan Man Who, Quite Contrarily, Had The Worst Signing Day Ever: Rich Rodriguez, who joined CBS Sports to interview new Michigan coach Brady Hoke. Their exchanges are below; look out for Rich Rod's clenched jaw throughout: