Your morning roundup for Feb. 10, the day we regretted the harm our actions have caused our family, our staff, and our constituents.
• Villanova loses to Rutgers 77-76 on a desperation four-pointer with 0.8 seconds left. [Star-Ledger] (Video here)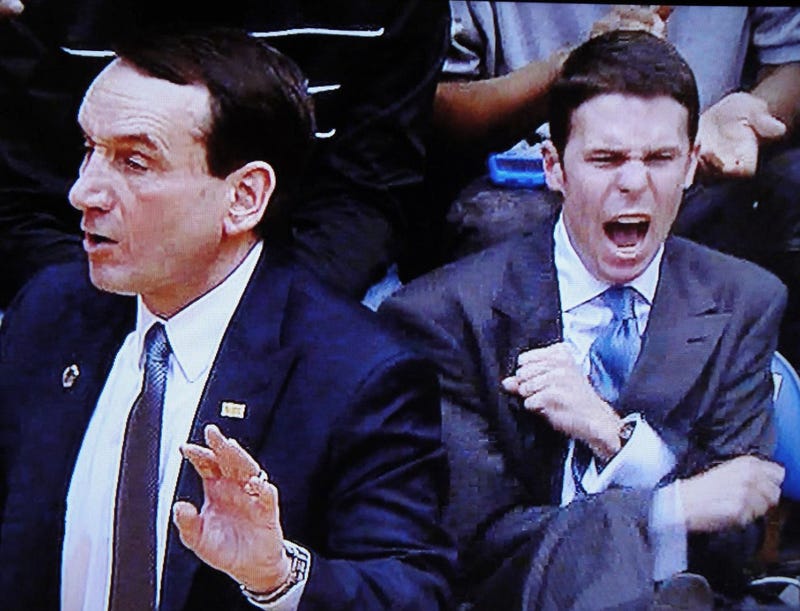 • Duke basketball won a game against the University of North Carolina last night. [Sporting News]
• Tate Forcier is taking his talents to Coral Gables. Said his father, "Some of the criticism he got in the past are from people who misunderstand him as 'cocky.' Really all he has is a lot swagger. I know the players at Miami are all about that." [Miami Herald]
• Bengals QB Carson Palmer is about to put his home up for sale, says a real-estate agent who added, "He's not coming back." Condolences to the Palmer family. [WCPO]
• The Cleveland Cavaliers lost their 26th straight last night. It was a performance deemed "sloppy from start to finish." [Plain Dealer]
• Before they lost their 26th consecutive game, the Cavs went ahead and sent NBA officials video of Dirk Nowitzki purportedly punching point guard Ramon Sessions the other night. [Waiting For Next Year]
• John Daly has a new golf bag. It has a flat-screen TV on it. Of course it does. [John Daly's photos/Plixi]
• The combined revenues of Europe's top 20 soccer clubs topped $5.5 billion for the first time. Top six moneymaking clubs: Real Madrid, Barcelona, Manchester United, Bayern Munich, Arsenal and Chelsea. [AP]
• FC Zurich fans "turned their section behind the goal blue and white with a giant Gene Simmons head complete with a blood-red tongue that they pulled out of the mouth hole with a stick." [YahooSports] (The Simmons homage is over in the video's first few seconds.)
• Lionel Messi's Argentina 2, Cristiano Ronaldo's Portugal 1. [ESPN]
• Who can you trust if you can't trust members of the University of Florida swimming team not to shoplift jackets from Nordstrom's? Nobody. That's who. [Orlando Sentinel]
• And, some sad news: Taylor Corley has "mutually parted ways" with the Mississippi State cheerleading squad. She made this stunning announcement in her first interview since word leaked that she'd posed in Playboy under the banner of "Taylor Stone." [Memphis Sport]
****
Morning. Do something extremely well today.