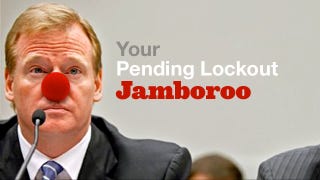 The NFL season is over! No! NO! NOOOOOOOOOO! Oh, fuck you, God! You've got some nerve allowing late winter, spring, and summer to get in the way like that! I HATE YOU! I HATE YOU I HATE YOU I HATE YOU!
This is why I could never really be against an 18-game regular season, as proposed by the NFL owners right now. Sure, two more games makes players more susceptible to injury, threatens to turn the entire season into a battle of attrition that has little to do with skill and more with injury luck, and shorten player careers. Then again, that's not really MY problem. All I know is that an 18-game schedule would give me two extra weeks per year to NOT agonize over the NFL not being around. And, because I'm a selfish prick who only cares about himself, that's really all I need to be convinced of the idea's awesomeness.
Now that the season is over, you're going to hear a lot of things about the brewing labor war (WAR!!!!!!) between the owners and the NFLPA. Ideally, this dispute would be settled on the fucking field where it belongs, with Ray Lewis jacking up Ralph Wilson and breaking all of his frail old man bones on a single hit. But that isn't how NFL owners do things, because they are pussies. What do you need to know in order to survive what could be months and months of bitter CBA negotiations? Fear not, for the following FAQ shall tell you everything you need to know.
Q: Will there be a lockout?
A: Yes.
Q: Oh fuck, really?
A: Nah, just fucking with you. The truth is that no one knows if there will be a prolonged work stoppage, not even the main combatants. But the beauty of everyone NOT knowing if there will be a deal or not means any asshole can make any prediction about it have it be just as valid as any other asshole's prediction. For example: I think that once March rolls around and the threat of a hugely unpopular work stoppage becomes more tangible, there will be more pressure on both owners and players to get a deal done. Now, that previous sentence is all a lie. Total bullshit. But it SOUNDED possible, didn't it? That's the beauty of covering a work stoppage.
Q: Who is optimistic about a deal getting done?
A: John Clayton, and this one other dude I heard on the radio the other day. He was probably wrong, but it made me feel much better.
Q: Who is pessimistic about a deal getting done?
A: Peter King. Oooh, Peter says this could be the last football game FOREVER! AND EVER AND EVER AND EVER OOOOH LOFTY-SCARY…
Q: Where will these negotiations take place?
A: Likely in New York. Can you believe the GALL of the NFL, to hold such an important event in a cold weather locale? It could be 34 degrees outside during the next meeting. NO ONE WILL BE ALLOWED TO GOLF! PETER KING WON'T BE ABLE TO FIND A HOTEL WITH FREE WIFI! Bill Simmons and Cousin Sal didn't have a good enough time! THIS IS SETTING A HORRIBLE PRECEDENT!
Q: If there is a work stoppage, who do we blame?
A: The owners. Owners are richer than players. And my rule of thumb is to always hate the richer person more. Furthermore, the owners agreed to a CBA back in 2006 that they all say they didn't really like that much. So they shouldn't have voted for it then. Tough luck for you, fuckos. Even though I don't really give a shit about the players, they're the ones out there subjecting themselves to horrible injuries every week without lifetime guaranteed health care. As someone who had to buy health care for himself this year, let me just say that the people in charge of health care companies should all get leprosy and left to die in a fucking warehouse.
The NFL makes an unreasonable sum of money. Its owners essentially have a license to print cash. Anyone owner who says his team is losing money is fucking lying. If the Pittsburgh Pirates, the absolute dregs of baseball, can make assloads of money and still cry poverty (as the financial records we posted indicate), you better believe that NFL owners are even more full of shit when it comes to revenue. This isn't about owners losing money. This is about them not making what they perceive as ENOUGH money. The Bills don't make as much as the Cowboys do. So where can that team find some money to make up the disparity in both revenue and self-esteem? From payroll. And two of these teams (Chargers and Vikings?) are about to get a sweetheart deal with L.A., giving the league an even greater number of "luxury" teams. That's what this shit is about. The Panthers started talking this year about getting a new stadium. Know when their current one was built? 1996. Fuck them.