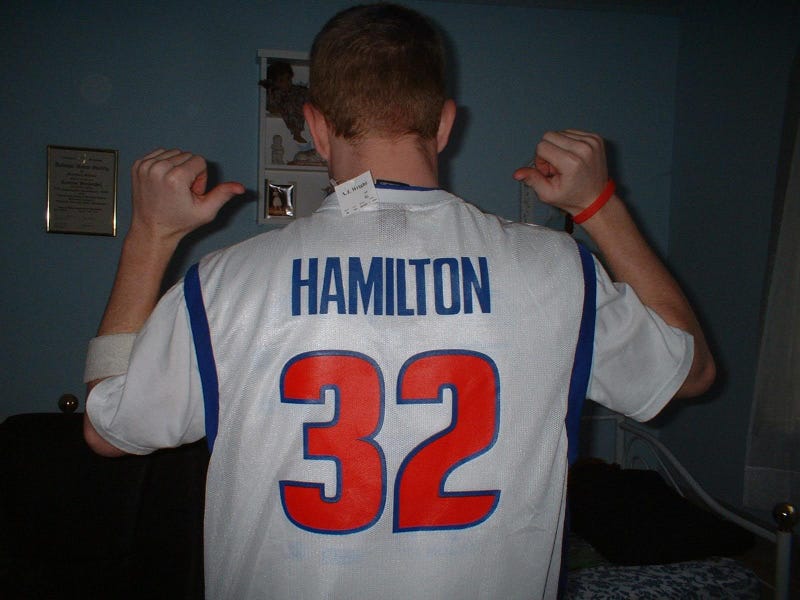 Your morning roundup for Feb. 27, the day that Earth's show-business sect finally recognizes all that Queen Amidala of Naboo has done for them, and for all the rebellion.
• Alternate headline: Which Member Of The National Honor Society Has Two Thumbs And Just Lost A Hero? This Rip Hamilton fan, that's who.
As stunned coaches and teammates watched, Hamilton bellowed at Kuester that he had been a failure in his two seasons in Detroit, blown the opportunity the franchise afforded him and was nothing more than a career assistant coach, sources said. Despite Hamilton yelling within inches of him, Kuester didn't respond. [Adrian Wojnarowski/Yahoo]
Yesterday, the team said the whole concerted-mutiny angle was "overblown." In fact, a nine-man roster went ahead and beat the Jazz last night. The Detroit Free Press brings you a story about "How the Pistons protest went down in Philly." But will the coach take the "blunt of the blame"?
• Duke lost to Virginia Tech in college hoops last night. Let's assess blame: "Down 63-60, Duke took a timeout with 12.7 seconds left. Duke's Seth Curry, son of former Hokie great Dell Curry, lost his handle on the ball when Malcolm Delaney got a piece of it, and Allen came up with it with about two seconds left. Allen raised his fist and roared after being fouled with 1.6 seconds to go, and clapped his hands. Allen made one of two free throws to seal the signature win the Hokies had desired." [Roanoke Times]
• The Kentucky Wildcats won their 33rd home game in a row. John Calipari coached his 500th win. [Herald-Leader]
• The NFL Players Association may or may not decertify before Friday's collective-bargaining agreement end times. Decertification would, conceivably, prevent the owners from locking the players out. [PFT]
• Washington Post columnist Thomas Boswell asks, "Can Jayson Werth bring swagger to the Nationals?" Reality's long answer to his question: No. [Washington Post]
• Yes, TMZ has done God's work in making Ben Roethlisberger's wedding registry available. [TMZ]
• The Raptors and Nets will play in London this week, "but the main attraction for many fans will be the sight of the superbabe in the flesh." The superbabe being "Curvy Kim Kardashian." [Daily Star] (H/T Negativo)
• Kendrick Perkins, the NBA center expected to bring "grit, tenacity to Oklahoma City" from Boston, makes the Oklapress wolfpack giggle and guffaw when he talks about disliking Pau Gasol. [OKBlitz]
• Hockey broadcasting rivalries just got real in Canada as Nick Kypreos of Sportsnet Tweeted far-and-wide that hates those fuckers at TSN. Oh snap. [Pension Plan Puppets]
• West Ham vs. Liverpool started a half-hour ago. Arsenal vs. Birmingham City in the Carling Cup Finals at 11 a.m. Much at stake, much at stake. [Daily Mail, Daily Independent]
• Oh dear God, the Slide Phillies Slide girl is back, per tipster Jennifer. She's doing Whitney this time. [AvonVoices]