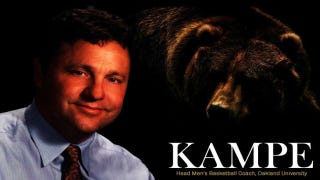 Your morning roundup for March 9, the day a cow fart came in a can.
• Here's a screen shot of the welcome page from the official website of Oakland's head basketball coach, Greg Kampe. The site doesn't look like it's been updated in some time. To be fair, I guess, the Oakland mascot is the Golden Grizzlie — but the site also includes a photo of a possibly under-aged girl holding a homemade sign that says "Greg Kampe is one of the 50 Sexiest Coaches." Greg Kampe apparently does not give a shit. Oakland won the Summit League title last night to clinch its second straight NCAA berth. (H/T EddieSuttons_SouthernComfort)
• PETA members are staging a "peaceful protest" against Mike Tyson's pigeons in Henderson, Nev. They are apparently not distracted enough by their new rapper spokesman and the bling on his member.