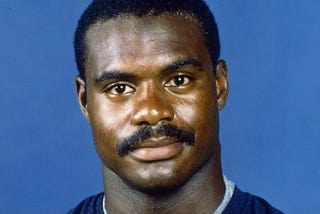 The Miami-Dade County medical examiner has released her final report on the death of former NFLer Dave Duerson, who shot himself through the heart last month and instructed that his brain be donated to head trauma research. Confirmed by the report is that Duerson complained of "memory loss and inability to spell," and was having financial problems.
The final scene in his apartment is probably the worst thing we can picture for our athletes: dead, in bed, surrounded by his medals and certificates. In his closet, his trophies and awards, and football helmets from his three different teams.
Folded neatly at the head of his bed, an American flag.
Meanwhile, Rex Ryan in an unenviably difficult situation given the timing, responded when asked by reporters about Duerson's allegations against Buddy Ryan, made three months before his death. Difficult not only because of Duerson's death, but also because Buddy Ryan is battling cancer.