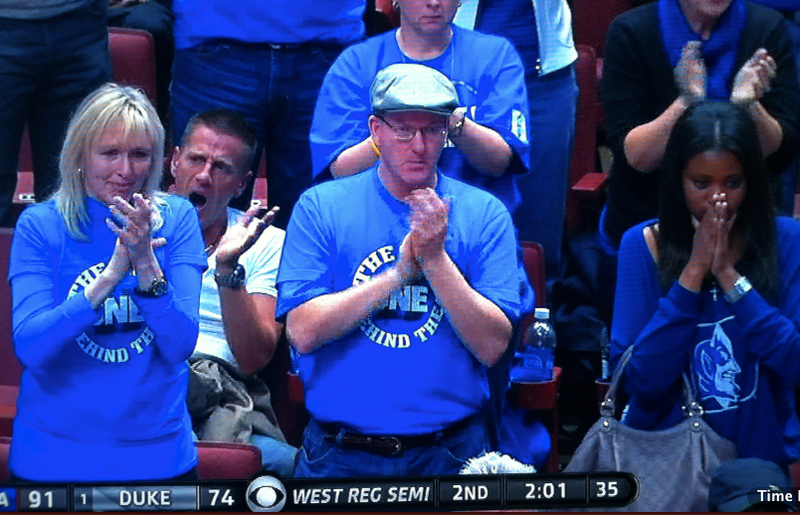 Your morning roundup for March 25, the day rockhopper penguins fight for their oil-slicked lives.
• Not surviving their Sweet Sixteen match-ups were San Diego State [SignOn San Diego], BYU [Salt Lake Tribune], Duke [News & Observer] and Wisconsin [Madison.com]. (H/T Tom B. for the Singler family shot)
• But whatever. Here's more about the whole Kyrie Irving getting put on Twitter blast by @misshawaii who accuses him, via "online police report," of harassment and "recording videos on Skype breaking the BYU Honor Code." That last one would mean more if Irving didn't play for Duke. [Black Sports Online]
• Kentucky coach John Calipari moved his team out of the Wyndham in Elizabeth, NJ where they were supposed to stay before tonight's game in Newark. He cited distractions. Distractions like being in a Wyndham in Elizabeth. [NJ.com] (H/T Iracane)
• Residents of Newark offered advice for visitors to Cory Booker's fair city. Video is provided. [Star-Ledger]
• The first star of the Bruins/Canadiens hockey competition was Zdeno Chara, who had three assists in Boston's 7-0 victory. This, after the Montreal writer whose car got rightfully trashed in last year's playoffs wrote that a Beantown radio guy was "the village idiot of Boston sports radio [who] likes to play fast and loose with the facts." This, before the same writer etched "The Canadiens are the healthiest they have been in a while, but they left Boston Thursday night with a sick feeling after dropping a 7-0 decision to the Bruins" into the annals of brillant literature. [Montreal Gazette]
• The Florida Everblades's "Go Green" jerseys are a little bit Eliot Porter, and a little bit iron-on wallpaper. [Yahoo Sports] (H/T Steve P.)
• Texas Rangers manager Ron Washington hasn't taken the time to rectify three or four squares of the sidewalk where "someone has etched into the concrete 'NIGGERS.'"
You can tell it wasn't written when the concrete was wet, either. No, someone had to take a sharp object and cut into the concrete with so much persistence and pressure that the gashed letters would remain visible for years.

"Oh, that," he says. "That's some ugliness. It was done before I got the house."
• Murray Chass on Stan Musial: "As a person, however, he left much to be desired." [Murray Chass]